Colorimetric method for determination of bisphenol A based on aptamer-mediated aggregation of positively charged gold nanoparticles
Abstract
A sensitive, specific and rapid colorimetric aptasensor for the determination of the plasticizer bisphenol A (BPA) was developed. It is based on the use of gold nanoparticles (AuNPs) that are positively charged due to the modification with cysteamine which is cationic at near-neutral pH values. If aptamers are added to such AuNPs, aggregation occurs due to electrostatic interactions between the negatively-charged aptamers and the positively-charged AuNPs. This results in a color change of the AuNPs from red to blue. If a sample containing BPA is added to the anti-BPA aptamers, the anti-BPA aptamers undergo folding via an induced-fit binding mechanism. This is accompanied by a conformational change, which prevents the aptamer-induced aggregation and color change of AuNPs. The effect was exploited to design a colorimetric assay for BPA. Under optimum conditions, the absorbance ratio of A 527/A 680 is linearly proportional to the BPA concentration in the range from 35 to 140 ng∙mL−1, with a detection limit of 0.11 ng∙mL−1. The method has been successfully applied to the determination of BPA in spiked tap water and gave recoveries between 91 and 106 %. Data were in full accordance with results obtained from HPLC. This assay is selective, easily performed, and in our perception represents a promising alternative to existing methods for rapid quantification of BPA.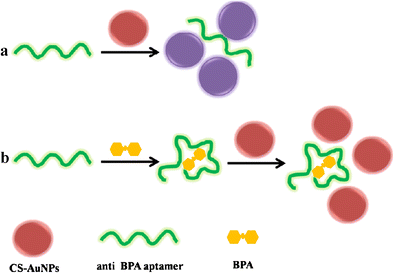 Keywords
Bisphenol A 
Aptamer 
Colorimetry 
Gold nanoparticles 
Electrostatic interactions 
Cysteamine 
Notes
Acknowledgments
This work was financially supported by the Natural Science Foundation of Jilin Province (No. 201215024), the Excellent Youth Talent Cultivation Project of Heping Campus of Jilin University, and the Graduate Student Innovation Research Project of Jilin University (No. 2014071).
Copyright information
© Springer-Verlag Wien 2015