Nanostructured polypyrrole for automated and electrochemically controlled in-tube solid-phase microextraction of cationic nitrogen compounds
Abstract
The authors describe an efficient method for microextraction and preconcentration of trace quantities of cationic nitrogen compounds, specifically of anilines. It relies on a combination of electrochemically controlled solid-phase microextraction and on-line in-tube solid-phase microextraction (SPME) using polypyrrole-coated capillaries. Nanostructured polypyrrole was electrically deposited on the inner surface of a stainless steel tube and used as the extraction phase. It also acts as a polypyrrole electrode that was used as a cation exchanger, and a platinum electrode that was used as the anode. The solution to be extracted is passed over the inner surface of the polypyrrole electrode, upon which cations are extracted by applying a negative potential under flow conditions. This method represents an ideal technique for SPME of protonated anilines because it is fast, easily automated, solvent-free, and inexpensive. Under optimal conditions, the limits of detection are in the 0.10–0.30 μg L‾1 range. The method works in the 0.10 to 300 μg L‾1 concentration range. The inter- and intra-assay precisions (RSD%; for n = 3) range from 5.1 to 7.5 % and from 4.7 to 6.0 % at the concentration levels of 2, 10 and 20 μg L‾1, respectively. The EC-in-tube SPME method was successfully applied to the analysis of methyl-, 4-chloro-, 3-chloro and 3,4-dichloroanilines in (spiked) water samples.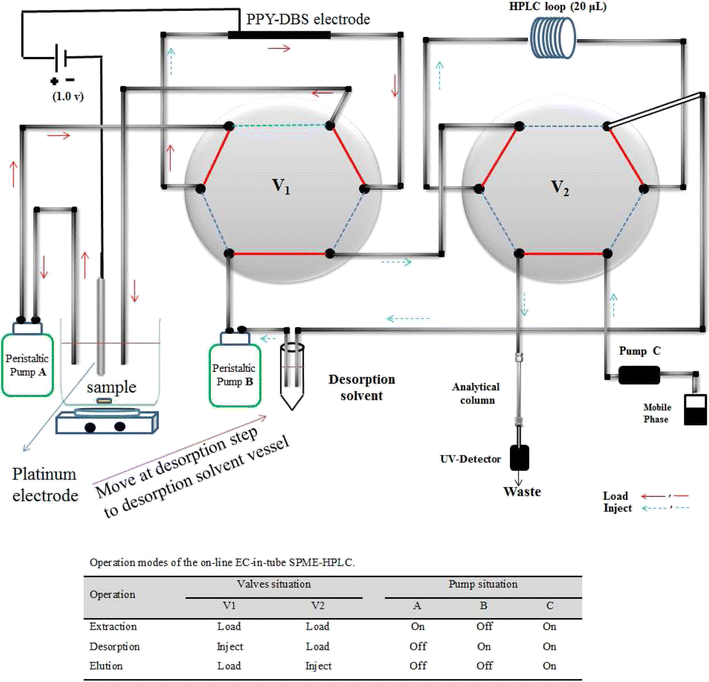 Keywords
Electrochemically controlled solid phase microextraction 
In-tube solid phase microextraction 
Nanostructured polymer 
Polypyrrole 
Anilin 
Notes
Acknowledgments
The authors gratefully acknowledge financial support from Tarbiat Modares University
Conflict of interest
The authors have declared no conflict of interest.
Copyright information
© Springer-Verlag Wien 2015