Electrochemical sandwich immunoassay for the peptide hormone prolactin using an electrode modified with graphene, single walled carbon nanotubes and antibody-coated gold nanoparticles
Abstract
We describe a new kind of electrochemical immunoassay for the peptide hormone prolactin. A glassy carbon electrode (GCE) was modified with a hybrid material consisting of graphene, single walled carbon nanotubes and gold nanoparticles (AuNPs) in a chitosan (CS) matrix. The graphene and the single wall carbon nanotubes were first placed on the GCE, and the AuNPs were then electrodeposited on the surface by cyclic voltammetry. This structure results in a comparably large surface for immobilization of the capturing antibody (Ab1). The modified electrode was used in a standard sandwich-type of immunoassay. The secondary antibody (Ab2) consisted of AuNPs with immobilized Ab2 and modified with biotinylated DNA as signal tags. Finally, alkaline phosphatase was bound to the biotinylated DNA-AuNPs-Ab2 conjugate via streptavidin chemistry. The enzyme catalyzes the hydrolysis of the α-naphthyl phosphate to form α-naphthol which is highly electroactive at an operating voltage as low as 180 mV (vs. Ag/AgCl). The resulting immunoassay exhibits high sensitivity, wide linear range (50 to 3200 pg∙mL‾1), low detection limit (47 pg∙mL‾1), acceptable selectivity and reproducibility. The assay provides a pragmatic platform for signal amplification and has a great potential for the sensitive determination of antigens other than prolactine.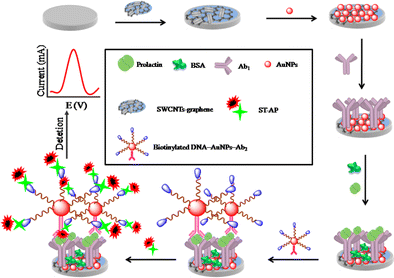 Keywords
Electrochemical biosensor 
Immunosensor 
Graphene 
Single wall carbon nanotubes 
Gold nanoparticles 
Prolactin 
Chitosan 
Alkaline phosphatase 
Notes
Acknowledgments
This work was funded by the National Natural Science Foundation of China (81371904) and (81101638), the Natural Science Foundation Project of CQ (CSTC2013jjB10019).
Copyright information
© Springer-Verlag Wien 2015