An enzymatic glucose biosensor based on a glassy carbon electrode modified with cylinder-shaped titanium dioxide nanorods
Abstract
We describe a highly sensitive electrochemical enzymatic glucose biosensor. A glassy carbon electrode was modified with cylinder-shaped titanium dioxide nanorods (TiO2-NRs) for the immobilization of glucose oxidase. The modified nanorods and the enzyme biosensor were characterized by scanning electron microscopy, X-ray diffraction, Fourier transform infrared spectroscopy, electrochemical impedance spectroscopy and cyclic voltammetry. The glucose oxidase on the TiO2-NRs displays a high activity and undergoes fast surface-controlled electron transfer. A pair of well-defined quasi-reversible redox peaks was observed at −0.394 and −0.450 V. The TiO2-NRs provide a good microenvironment to facilitate the direct electron transfer between enzyme and electrode surface. The biosensor has two linear response ranges, viz. from 2.0 to 52 μM, and 0.052 to 2.3 mM. The lower detection limit is 0.5 μM, and the sensitivity is 68.58 mA M−1 cm−2. The glucose biosensor is selective, well reproducible, and stable. In our perception, the cylindrically shaped TiO2-NRs provide a promising support for the immobilization of proteins and pave the way to the development of high-performance biosensors.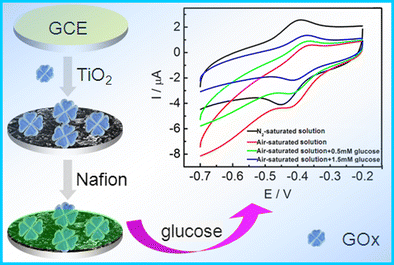 Keywords
Cylinder-shaped titanium dioxide 
Nanorods 
Glucose oxidase 
Glucose 
Biosensor 
Notes
Acknowledgments
This work was financially supported by National Natural Science Foundation of China (21475116, 21275124), The Priority Academic Program Development of Jiangsu Higher Education Institution (PAPD), University Natural Science Foundation of Jiangsu Province (13KJB150039) and the Open Research Fund of State Key Laboratory of Analytical Chemistry for Life Science (SKLACLS1410). Also, many thanks to The Testing Center of Yangzhou University for all the characterizations.
Copyright information
© Springer-Verlag Wien 2015