Aptamer biosensor for dopamine based on a gold electrode modified with carbon nanoparticles and thionine labeled gold nanoparticles as probe
Abstract
We describe a biosensor for dopamine that is based on the use of a gold electrode modified with carbon nanoparticles (CNPs) coupled to thionine labeled gold nanoparticles (AuNPs) acting as signal amplifiers. The biosensor was constructed by first modifying the CNPs on the gold electrode and adsorbing the thionine on the surface of the AuNPs, and then linking the complementary strand of the dopamine aptamer to the AuNPs via gold-thiol chemistry. Next, dopamine aptamer is added and the duplex is formed on the surface. On addition of a sample containing dopamine, it will interact with aptamer and cause the release of the electrochemical probe which then will be adsorbed on the surface of the CNP-modified gold electrode and detected by differential pulse voltammetry. The current is linearly related to the concentration of dopamine in the 30 nM to 6.0 μM ranges. The detection limit is as low as 10 nM, and the RSD is 3.1 % at a 0.3 μM level (for n = 11). The protocol was successfully applied to the determination of dopamine in spiked human urine samples. We perceive that this method holds promise as a widely applicable platform for aptamer-based electrochemical detection of small molecules.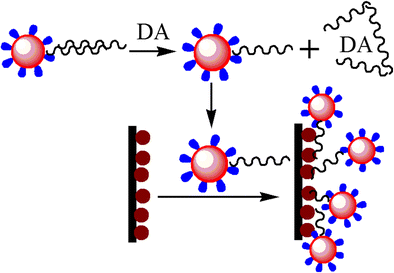 Keywords
Dopamine 
Carbon nanoparticles 
Aptamer 
Differential pulse voltammetry 
Gold nanoparticles 
Notes
Acknowledgments
This research was supported by the Scientific and Technical Development Project of Qingdao (12-1-4-3-(18)-jch), the National Natural Science Foundation of China (21275085, 21305073), the Taishan Scholar Program of Shandong Province, the Open Project Program of State Key Laboratory of Food Science and Technology, Jiangnan University (SKLF-KF-201112), Shandong Provincial Natural Science Foundation (2012G0020221, ZR2014JL013) and the Scientific Research Startup Foundation of Qingdao University of Science and Technology for Talents.
Copyright information
© Springer-Verlag Wien 2015