Impedimetric aptamer-based determination of the mold toxin fumonisin B1
Abstract
We are presenting an aptasensor for the sensitive determination of fumonisin B1 (FB-1) via electrochemical impedance spectroscopy (EIS) and applying aptamer-based biorecognition. A thiolated aptamer for FB-1 was anchored onto the surface of gold nanoparticles (AuNPs) on a glassy carbon electrode. A significant increase in resistance (Ret) is found on interaction with FB-1 in the 0.1 nM to 100 μM concentration range, and the detection limit is as low as 2 pM. The assay was applied to determine FB-1 in spiked maize samples and gave recovery rates ranging from 91 to 105 %. The results demonstrate this method to present new possibilities in the application of aptamers in food safety analysis.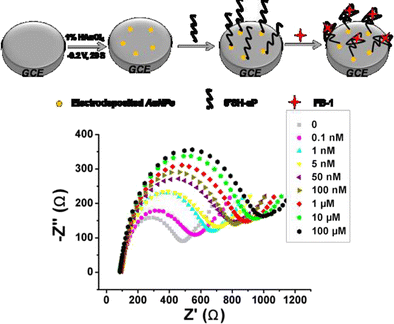 Keywords
Fumonisin 
Biosensor 
Electrochemical impedance spectroscopy (EIS) 
Electrodeposited gold nanoparticles 
Aptamer 
Notes
Acknowledgments
This work was partly supported by the National S&T Support Program of China (2012BAK08B01), S&T Supporting Project of Jiangsu Province(BE2011621), and JUSRP51309A.
Conflict of interest
The authors declare no competing financial interests.
Copyright information
© Springer-Verlag Wien 2015