A sensitive and selective fluorescence assay for metallothioneins by exploiting the surface energy transfer between rhodamine 6G and gold nanoparticles
Abstract
We report on a sensitive and selective strategy for the determination of metallothioneins (MTs). The assay is based on the suppression of the surface energy transfer that occurs between rhodamine 6G (Rh6G) and gold nanoparticles (AuNPs). If Rh6G is adsorbed onto the surface of AuNPs in water solution of pH 3.0, its fluorescence is quenched due to surface energy transfer. However, on addition of MTs to the Rh6G-AuNPs system, fluorescence is recovered owing to the formation of the MTs-AuNPs complex and the release of Rh6G into the solution. Under optimized conditions, the increase in fluorescence intensity is directly proportional to the concentration of the MTs in the range from 9.68 to 500 ng mL−1, with a detection limit as low as 2.9 ng mL−1. The possible mechanism of this assay is discussed. The method was successfully applied to the determination of MTs in (spiked) human urine.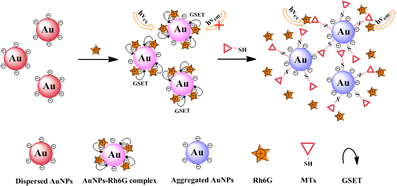 Keywords
Nanomaterial 
Gold nanoparticles 
Surface energy transfer 
Fluorescence spectroscopy 
Rhodamine 6G 
Metallothioneins 
Metalloprotein 
Notes
Acknowledgments
The authors gratefully acknowledge the support of the National Natural Science Foundation of China (No. 21177052), the Science and Technology Program of Hunan Province in China (No. 2010SK3039) and the Construct Program of the Key Discipline (Public Health and Preventive Medicine) in Hunan Province.
Copyright information
© Springer-Verlag Wien 2015