Ultrasensitive and selective voltammetric aptasensor for dopamine based on a conducting polymer nanocomposite doped with graphene oxide
Abstract
We describe an aptasensor for the determination of dopamine in human serum and with ultrahigh sensitivity and selectivity. The sensor is based on a nanocomposite consisting of reduced graphene oxide (rGO) and the conducting polymer poly(3,4-ethylenedioxythiophene) (PEDOT). The PEDOT/rGO interface was prepared by electrochemical polymerization of EDOT using graphene oxide as the dopant which is later electrochemically reduced to form rGO. Subsequent covalent modification of the high surface area composite with a selective aptamer enables highly sensitive and selective detection by differential pulse voltammetry. The calibration plot established at a working voltage of 160 mV displays a linear response in the 1 pM to 160 nM concentration range and an unprecedented detection limit of 78 fM. The sensor is fairly selective in not responding to common interferents, and is reusable after regeneration with a 7 M solution of urea. It was successfully applied to (spiked) serum samples and gave recoveries ranging from 98.3 to 100.7 %.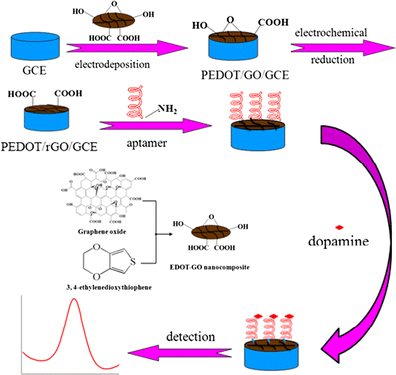 Keywords
Aptamer 
Conducting polymer 
Dopamine 
Graphene oxide 
Poly(3,4-ethylenedioxythiophene) 
Notes
Acknowledgments
This research was supported by the National Natural Science Foundation of China (No. 21275087, 21175077), the Natural Science Foundation of Shandong Province of China (ZR2012BM008), and the Taishan Scholar Program of Shandong Province, China.
Copyright information
© Springer-Verlag Wien 2014