Voltammetric sensor for theophylline using sol–gel immobilized molecularly imprinted polymer particles
Abstract
Sensors incorporating molecularly imprinted polymers (MIPs) are feasible in concept though the reproducibility of such devices can be compromised by the large number of interdependent steps. For this reason, many researchers have focused on the synthesis of MIP particles only, not on their immobilization. Herein is presented a sol–gel based method for immobilization of unmodified MIP particles for use in an electrochemical sensor. The macroporous particles were prepared using precipitation-polymerization and imprinted with theophylline. The sol–gel was combined with graphite microparticles (50 μm) and the composite was deposited on the surfaced of an epoxy-graphite electrode. The sensor was then tested for its response to theophylline using differential pulse voltammetry. A limit of detection of 1 μM was observed and a relative standard deviation of 6.85 %. The electrode can be regenerated via a thermal washing process which was accompanied by an initial signal loss of 29.3 %. Any further regeneration caused a signal loss of 2.4 % only.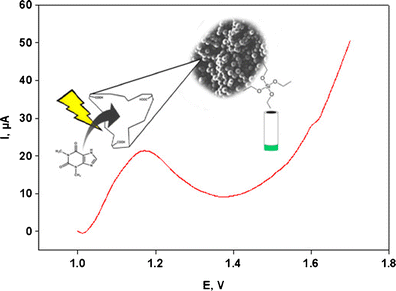 Keywords
Molecularly imprinted polymers (MIP) 
Sol–gel 
Graphite 
Theophylline 
Differential pulse voltammetry 
Notes
Acknowledgments
This research was supported by the Research Executive Agency (REA) of the European Union under Grant Agreement number PITN-GA-2010-264772 (ITN CHEBANA), by the Ministry of Science and Innovation (MCINN, Madrid, Spain) through the project CTQ2010-17099 and by the Catalonia program ICREA Academia.
Copyright information
© Springer-Verlag Wien 2014