Simultaneous detection of pathogenic bacteria using an aptamer based biosensor and dual fluorescence resonance energy transfer from quantum dots to carbon nanoparticles
Abstract
We report on a method for simultaneous detection of the pathogens Vibrio parahaemolyticus and Salmonella typhimurium. It is based on dual fluorescence resonance energy transfer (FRET) from green-emitting quantum-dots (gQDs) and red-emitting quantum-dots (rQDs) as donors, and on novel amorphous carbon nanoparticles (CNPs) that act as acceptor. The gQDs were modified with an aptamer (Apt 1) recognizing V. parahaemolyticus, and the rQDs with an aptamer (Apt 2) recognizing S. typhimurium. The fluorescence of both QDs is strongly quenched in the presence of CNPs. However, on addition of the target analytes, the QDs-aptamer-target complex is formed and quenching by CNPs is suppressed. The fluorescence of the QDs is linearly proportional to the concentration of the two pathogens in the range from 50 to 106 cfu·mL−1, with detection limits as low as 25 cfu·mL−1 for V. parahaemolyticus, and of 35 cfu·mL−1 for S. typhimurium. The assay was applied to real food samples, and the results were consistent with the results obtained with plate counting methods. We presume that this strategy can be extended to the detection of other pathogenic bacteria and biomolecules by simply substituting the aptamer.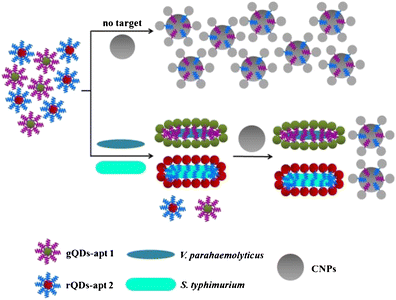 Keywords
Dual FRET 
Aptamers 
Foodborne pathogenic bacteria 
Simultaneous detection 
Notes
Acknowledgments
This work was partialy supported by NSFC (21375049), National Science and Technology Support Program of China (2012BAK08B01), Research Fund for the Doctoral Program of Higher Education (20110093110002), NCET-11-0663, BK20140155, JUSRP51309A, 2011YQ170067, WZ201219, and 2012NJMU093.
Copyright information
© Springer-Verlag Wien 2014