Profiling of oxygen in biofilms using individually addressable disk microelectrodes on a microfabricated needle
Abstract
A novel microelectrode array sensor was fabricated using MEMS technology on a needle, and then applied to real-time measurement of dissolved oxygen (DO) inside biofilms. The sensor consists of eleven gold disk microelectrodes, a rectangular auxiliary electrode along them, and an external and internal reference electrode. Three kinds of sensors were designed and their responses were characterized and evaluated under various conditions. The arrays exhibit a linear response to DO in the 0–8 mg·L−1 concentration range in water, high sensitivity, repeatability, and low limits of detection (<0.11 mg·L−1 of DO) and quantification (0.38 mg·L−1 DO). The sensors were validated against a commercial Clark-type microelectrode and applied to profiling of DO in a heterotrophic biofilm cultivated in a flat-plate bioreactor. It is shown that the sensor array can provide a multipoint, simultaneous snapshot profile of DO inside a biofilm with high spatial resolution due to its micrometric dimensions. We conclude that this new sensor array represents a powerful tool for sensing of DO biofilms and in numerous bioprocesses.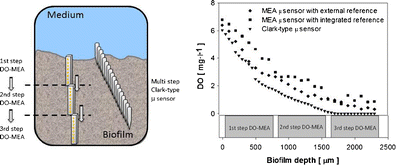 Keywords
Dissolved oxygen 
Microelectrode array 
Sensors 
Bioprocess monitoring 
Biofilms 
Notes
Acknowledgments
This work has been founded by projects DPI2011-28262-C04 and CTM2012-37927-C03/FEDER, financed by the Ministerio de Economía y Competitividad (Spain). AM gratefully acknowledges an FPI-2012 pre-doctoral scholarship, (it funded her PhD studies at Universitat Autònoma de Barcelona), and XG also acknowledges an FPI-UPC pre-doctoral scholarship, both from Ministerio de Economía y Competitividad (Spain).
Copyright information
© Springer-Verlag Wien 2014