Screen-printed biosensor modified with carbon black nanoparticles for the determination of paraoxon based on the inhibition of butyrylcholinesterase
Abstract
We have developed a screen-printed electrochemical electrode (SPE) for paraoxon based on its inhibitory effect on the enzyme butyrylcholinesterase (BChE). The electrode was first modified by drop casting with a dispersion of carbon black nanoparticles (CBNPs) in a dimethylformamide-water mixture, and BChE was then immobilized on the surface by cross-linking. The resulting biosensor was exposed to standard solutions of paraoxon, and the enzymatic hydrolysis of butyrylthiocholine over time was determined measuring the enzymatic product thiocholine at a working voltage of +300 mV. The enzyme inhibition is linearly related to the concentration of paraoxon up to 30 μg L−1, and the detection limit is 5 μg L−1. The biosensor is stable for up to 78 days of storage at room temperature under dry conditions. It was applied to determined paraoxon in spiked waste water samples. The results underpin the potential of the use of CBNPs in electrochemical biosensors and also demonstrate that they represent a viable alternative to other carbon nanomaterials such as carbon nanotubes or graphene, and with the advantage of being very affordable.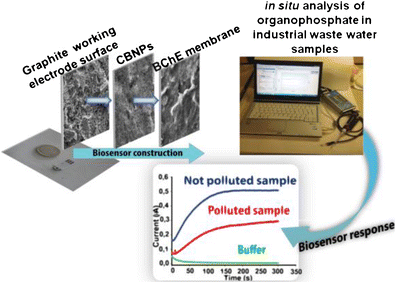 Keywords
Organophosphate 
Butyrylcholinesterase 
Screen-printed electrode 
Carbon black nanoparticles 
Inhibition 
Notes
Acknowledgments
This work was supported by National Industria 2015 (MI01_00223) ACQUA-SENSE project and Marie Curie FP7-PEOPLE-2011-IRSES, 294901 "Peptide Nanosensors". The authors thank Prof. F. Cataldo (Actinium Chemical Research srl) for the CBNPs samples, Tover Italia s.r.l. (Rome) and BASF Italia Divisione Catalizzatori (Rome) for the waste water samples.
Copyright information
© Springer-Verlag Wien 2014