Magnetic nanoparticles grafted with β-cyclodextrin for solid-phase extraction of 5-hydroxy-3-indole acetic acid
Abstract
We describe the synthesis of ß-cyclodextrin modified magnetic nanoparticles (CD-mNPs) as a material for solid-phase extraction of the cancer biomarker 5-hydroxy-indole-3-acetic acid (5-HIAA) from urine. The CD-mNPs were characterized by TEM, FTIR, and XRD, and the kinetics and adsorption isotherms were studied. The strong interaction between the CD-mNPs and 5-HIAA is the main driving force for recognition and extraction, while the magnetic core of the NPs allows their separation from the sample matrix. Recovery of 5-HIAA from the adsorbent using an adequate solvent regenerated the adsorbent for further use. 5-HIAA was then quantified by fluorometry of its complex with ß-CD. The method works in the 1 × 10−7 to 1 × 10−5 mol L−1 (R2 0.9982–0.9996) concentration range, and the limits of detection (3σ) and quantification (10 σ) of the method are 1.2 × 10−8 mol L−1 and 4.01 × 10−8 mol L−1 5-HIAA, respectively. The recovery of 5-HIAA from urine samples spiked with 5-HIAA in three concentrations (1.4 × 10−6, 4.50 × 10−6 and 1.0 × 10−5 mol L−1) are within 63 ± 3 %.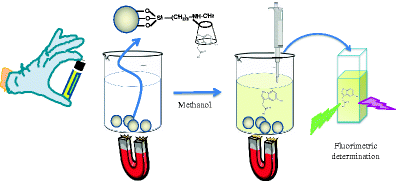 Keywords
Carcinoma marker 
Magnetic nanoparticles 
β-cyclodextrin 
Solid-phase extraction 
Notes
Acknowledgments
Authors gratefully acknowledge financial support from the Science and Innovation Spanish Ministry (Projs # MICINN-09-CTQ2009-09595 and MAT2012-099). Also, G.H.Gaber Ahmed thanks an Erasmus Mundus Medastar grant.
Copyright information
© Springer-Verlag Wien 2014