Mediatorless amperometric bienzyme glucose biosensor based on horseradish peroxidase and glucose oxidase cross-linked to multiwall carbon nanotubes
Abstract
We report on a bienzyme-channeling sensor for sensing glucose without the aid of mediator. It was fabricated by cross-linking horseradish peroxidase (HRP) and glucose oxidase (GOx) on a glassy carbon electrode modified with multiwalled carbon nanotubes (MWNTs). The bienzyme was cross-linked with the MWNTs by glutaraldehyde and bovine serum albumin. The MWNTs were employed to accelerate the electron transfer between immobilized HRP and electrode. Glucose was sensed by amperometric reduction of enzymatically generated H2O2 at an applied voltage of −50 mV (vs. Ag/AgCl). Factors influencing the preparation and performance of the bienzyme electrode were investigated in detail. The biosensor exhibited a fast and linear response to glucose in the concentration range from 0.4 to 15 mM, with a detection limit of 0.4 mM. The sensor exhibited good selectivity and durability, with a long-term relative standard deviation of <5 %. Analysis of glucose-spiked human serum samples yielded recoveries between 96 and 101 %.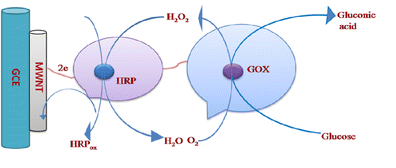 Keywords
Amperometric bienzyme biosensor 
Multiwall carbon nanotubes 
Cross-linking 
Mediatorless 
Glucose 
Notes
Acknowledgments
The authors gratefully acknowledge the financial support from the National Natural Science Foundation of China (No. 21305009 and 21005010).
Copyright information
© Springer-Verlag Wien 2014