Recent trends in SELEX technique and its application to food safety monitoring
Abstract
The method referred to as "systemic evolution of ligands by exponential enrichment" (SELEX) was introduced in 1990 and ever since has become an important tool for the identification and screening of aptamers. Such nucleic acids can recognize and bind to their corresponding targets (analytes) with high selectivity and affinity, and aptamers therefore have become attractive alternatives to traditional antibodies not the least because they are much more stable. Meanwhile, they have found numerous applications in different fields including food quality and safety monitoring. This review first gives an introduction into the selection process and to the evolution of SELEX, then covers applications of aptamers in the surveillance of food safety (with subsections on absorptiometric, electrochemical, fluorescent and other methods), and then gives conclusions and perspectives. The SELEX method excels by its features of in vitro, high throughput and ease of operation. This review contains 86 references.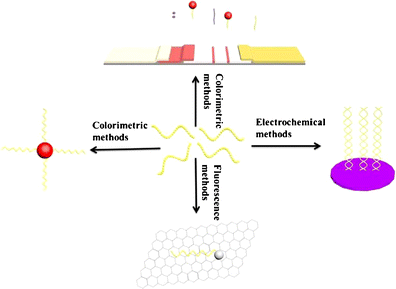 Keywords
SELEX 
Aptamer 
Food safety 
Rapid detection 
Biosensor 
Notes
Acknowledgments
This work is financially supported by the Huangshan Young Scholar Fund of Hefei University of Technology (407-037025), the National Natural Science Foundation of China with grant 31328009 and the NSF of Jiangsu Province (BK20130379, 13KJB550001), the Science and Technology Research Project of General Administration of Quality Supervision, Inspection and Quarantine of P. R. China (201210127, 201310135), the 12th Five Years Key Programs (2012BAK08B01-2, 2012BAK17B10, SS2012AA101001), Suzhou Science and Technology Committee Program (SS201335) and the Fundamental Research Funds for the Central Universities (2013HGCH0008, 2012HGCX0003).
G Liu acknowledges financial support from the National Cancer Institute (Grant number: R21CA137703) and the National Institute of General Medicine (NIGMS) (5P30 GM103332). Its contents are solely the responsibility of the authors and do not necessarily represent the official views of the NIH.
Copyright information
© Springer-Verlag Wien 2014