Multiplex genotyping of KRAS point mutations in tumor cell DNA by allele-specific real-time PCR on a centrifugal microfluidic disk segment
Abstract
Point Mutations on the Kirsten rat sarcoma viral oncogene homolog (KRAS) have been identified as an important predictive biomarker for response to cancer therapy targeting the epidermal growth factor receptor. KRAS mutations are prevalent in up to 40 % of all colorectal carcinomas, and routinely conducted KRAS genotyping is becoming mandatory to predict therapy success and to reduce therapy costs. We report a low-cost, disposable and ready-to-use centrifugal microfluidic cartridge (termed GeneSlice) containing preloaded primers and probes. The GeneSlice cartridge enables the parallel detection of the seven most relevant KRAS point mutations by allele-specific real-time PCR. It represents a cost effective alternative to dideoxy-sequencing with a faster time-to-result (~ 2 h versus up to 20 h in case of dd-sequencing). Microfluidic processing of the GeneSlice along with allele-specific amplification and real-time detection are conducted in a slightly modified, commercially available PCR thermocycler. Intra-chip standard deviation of Cq values on the GeneSlices is negligible (GeneSlice 1: Cq,std.dev. = 0.13; GeneSlice 2: Cq,std.dev = 0.26). In 23 of 24 experiments, the data for genotyping 6 cancer cell lines (n = 4 per cell line) agreed with dd-sequencing. Additionally, DNA derived from microdissected formalin-fixed and paraffin embedded colorectal carcinomas of two cases was genotyped correctly and reproducibly (n = 3 per patient; one GeneSlice excluded from evaluation). The GeneSlice therefore clearly demonstrated the potential to become a valuable tool for routine diagnostics of KRAS mutations by reducing costs and hands-on time.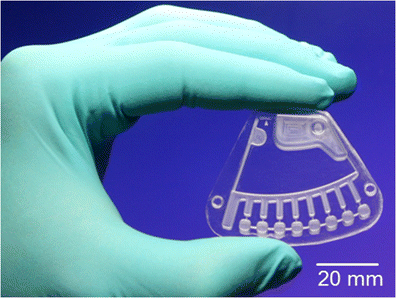 Keywords
Centrifugal microfluidics 
GeneSlice 
Allele-specific PCR 
Lab-on-a-Chip 
KRAS
Notes
Acknowledgement
We gratefully acknowledge financial support from the Baden-Württemberg Foundation for funding this project ("Amplidisk" - MST II – 17). Additionally, we want to thank Dominique Kosse and the team of HSG-IMIT Microfluidic Design & Foundry Service for fabrication of the GeneSlices. S. Laßmann, B. Riedel and M. Werner greatly acknowledge the support by Dr. Sandra Lass, Institute of Pathology, University Medical Center, Freiburg for excellent coordinative support of this project.
Copyright information
© Springer-Verlag Wien 2013