Protein-directed in situ synthesis of platinum nanoparticles with superior peroxidase-like activity, and their use for photometric determination of hydrogen peroxide
Abstract
Platinum nanoparticles (Pt-NPs) with sizes in the range from 10 to 30 nm were synthesized using protein-directed one-pot reduction. The model globular protein bovine serum albumin (BSA) was exploited as the template, and the resulting BSA/Pt-NPs were studied by transmission electron microscopy, energy dispersive X-ray spectroscopy, and resonance Rayleigh scattering spectroscopy. The modified nanoparticles display a peroxidase-like activity that was exploited in a rapid method for the colorimetric determination of hydrogen peroxide which can be detected in the 50 μM to 3 mM concentration range. The limit of detection is 7.9 μM, and the lowest concentration that can be visually detected is 200 μM.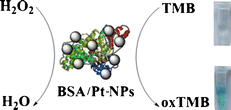 Keywords
Bovine serum albumin 
In situ synthesis 
Platinum nanoparticles 
Colorimetric detection 
Notes
Acknowledgments
This work was financially supported by the National Natural Science Foundation of China (No.21075078, 21105056) and the Natural Science Foundation of Shandong province, China (No.ZR2010BM005, ZR2011BQ001).
Copyright information
© Springer-Verlag Wien 2013