Electrochemical sensor based on a carbon nanotube-modified imprinted sol–gel for selective and sensitive determination of ß2-agonists
Abstract
We describe a molecularly imprinted electrochemical sensor for selective and sensitive determination of β2-agonists. It is making use of a combination of single-wall carbon nanotubes (SWNTs) with a molecularly imprinted sol–gel. The SWNTs were introduced in order to enhance electron transport and sensitivity. The imprinted sol–gel film with its specific binding sites acts as a selective recognition element and as a preconcentrator for β2-agonists. The morphology of the imprinted film was characterized by scanning electron microscopy. The optimized sensor displays high sensitivity and excellent selectivity for the β2-agonists as shown for their determination in human serum samples.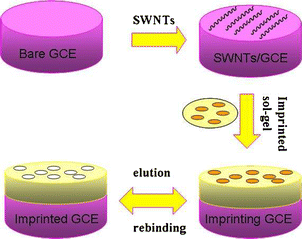 Keywords
Molecularly imprinted polymer 
Single-wall carbon nanotubes 
Sol–gel 
β2-agonists 
Notes
Acknowledgments
This work was financially supported by the National Natural Science Foundation of China (No. 21075029), the Natural Science Fund for Creative Research Groups of Hubei Province of China (No. 2011CDA111), and the Program for Excellent Youth Scholars of Innovative Research Team by Hubei Provincial Department of Education (T201101).
Copyright information
© Springer-Verlag Wien 2013