Carbon nanomaterial based electrochemical sensors for biogenic amines
Abstract
This review describes recent advances in the use of carbon nanomaterials for electroanalytical detection of biogenic amines (BAs). It starts with a short introduction into carbon nanomaterials such as carbon nanotubes, graphene, nanodiamonds, carbon nanofibers, fullerenes, and their composites. Next, electrochemical sensing schemes are discussed for various BAs including dopamine, serotonin, epinephrine, norepinephrine, tyramine, histamine and putrescine. Examples are then given for methods for simultaneous detection of various BAs. Finally, we discuss the current and future challenges of carbon nanomaterial-based electrochemical sensors for BAs. The review contains 175 references.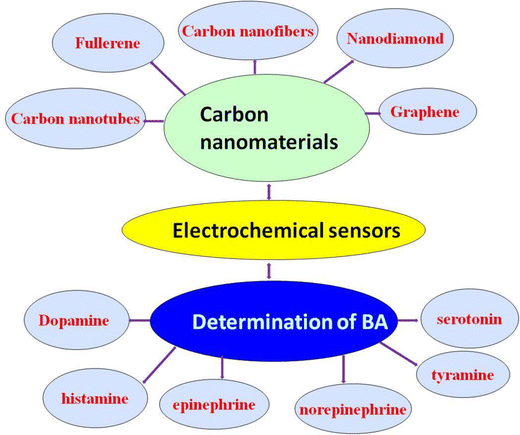 Keywords
Biogenic amines 
Carbon nanomaterials 
Electrochemical sensors 
Review 
Notes
Acknowledgments
This work was supported by the National Natural Science Foundation of China (21275123, 20975088, 21105085, 31270988), Project of Hunan Provincial Natural Science Foundation of China (12JJ7002), Hunan Provincial Innovation Foundation For Postgraduate (CX2012B268), and Opening Fund of Key Laboratory of Chemical Biology and Traditional Chinese Medicine Research (Hunan Normal University), Ministry of Education (KLCBTCMR2011-6).
Copyright information
© Springer-Verlag Wien 2013