Single-drop microextraction for the determination of manganese in seafood and water samples
Abstract
We describe a method for single drop microextraction of manganese from fish, mollusk, and from natural waters using the reagent 1-(2-pyridylazo)-2-naphthol as the complexing agent and chloroform as the fluid extractor. After extraction, the analyte was directly submitted to graphite furnace electrothermal atomic absorption spectrometry. Once optimized, the method has a detection limit of 30 ng L−1, a limit of quantification of 100 ng L−1, and an enrichment factor of 16. Its accuracy was verified by applying the procedure to the following certified reference materials: apple leaves, spinach leaves, bovine liver, and mussel tissue. The procedure was also successfully applied to the determination of manganese in seafood and natural waters.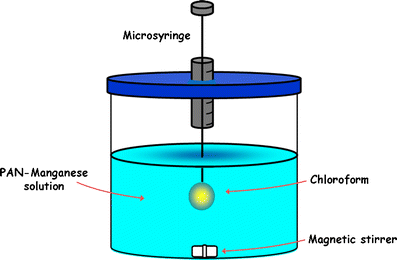 Keywords
Single-drop microextraction 
Manganese 
1-(2-pyridylazo)-2-naphthol 
Water 
Seafood 
Notes
Acknowledgments
The authors acknowledge the financial support of the Fundação de Amparo à Pesquisa do Estado da Bahia (FAPESB) and the Conselho Nacional de Desenvolvimento Científico e Tecnológico (CNPq).
Copyright information
© Springer-Verlag Wien 2013