Magnetic particles–based biosensor for biogenic amines using an optical oxygen sensor as a transducer
Abstract
We have developed a fibre optic biosensor with incorporated magnetic microparticles for the determination of biogenic amines. The enzyme diamine oxidase from Pisum sativum was immobilized either on chitosan-coated magnetic microparticles or on commercial microbeads modified with a ferrofluid. Both the immobilized enzyme and the ruthenium complex were incorporated into a UV-cured inorganic–organic polymer composite and deposited on a lens that was connected, by optical fibres, to an electro-optical detector. The enzyme catalyzes the oxidation of amines under consumption of oxygen. The latter was determined by measuring the quenched fluorescence lifetime of the ruthenium complex. The limits of detection for the biogenic amines putrescine and cadaverine are 25–30 μmol L−1, and responses are linear up to a concentration of 1 mmol L−1.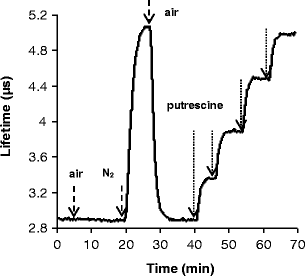 Keywords
Magnetic carriers 
Optical fibre biosensor 
Diamine oxidase 
Fluorescence quenching 
Ruthenium complex 
Notes
Acknowledgments
This work was supported by the Action COST TD1003 (Bio-inspired nanotechnologies: from concepts to applications), by the OP RD&I grant no. ED0007/01/01 (Centre of the Region Haná for Biotechnological and Agricultural Research) and by the Grant Agency of the Czech Republic (grant No. IAAX08240901).
Copyright information
© Springer-Verlag Wien 2012