Non-enzymatic electrochemical sensing of glucose
Abstract
This article reviews the progress made in the past 5 years in the field of direct and non-enzymatic electrochemical sensing of glucose. Following a brief discussion of the merits and limitations of enzymatic glucose sensors, we discuss the history of unraveling the mechanism of direct oxidation of glucose and theories of non-enzymatic electrocatalysis. We then review non-enzymatic glucose electrodes based on the use of the metals platinum, gold, nickel, copper, of alloys and bimetals, of carbon materials (including graphene and graphene-based composites), and of metal-metal oxides and layered double hydroxides. This review contains more than 200 refs.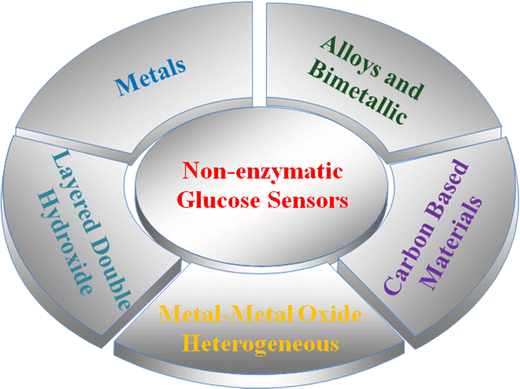 Keywords
Non-enzymatic 
Glucose 
Electrochemical sensors 
Notes
Acknowledgments
This work was financially supported by the National Natural Science Foundation of China (20901003, 20971003, 21073001 and 21005001), the Key Project of the Chinese Ministry of Education (209060), Anhui Provincial Natural Science Foundation (1208085QB28), Natural Science Foundation of Anhui (KJ2012A139) and the Program for Innovative Research Team at Anhui Normal University.
Copyright information
© Springer-Verlag Wien 2012