Ultrasensitive impedimetric lectin based biosensor for glycoproteins containing sialic acid
Abstract
We report on an ultrasensitive label-free lectin-based impedimetric biosensor for the determination of the sialylated glycoproteins fetuin and asialofetuin. A sialic acid binding agglutinin from Sambucus nigra I was covalently immobilised on a mixed self-assembled monolayer (SAM) consisting of 11-mercaptoundecanoic acid and 6-mercaptohexanol. Poly(vinyl alcohol) was used as a blocking agent. The sensor layer was characterised by atomic force microscopy, electrochemical impedance spectroscopy and X-ray photoelectron spectroscopy. The biosensor exhibits a linear range that spans 7 orders of magnitude for both glycoproteins, with a detection limit as low as 0.33 fM for fetuin and 0.54 fM for asialofetuin. We also show, by making control experiments with oxidised asialofetuin, that the biosensor is capable of quantitatively detecting changes in the fraction of sialic acid on glycoproteins. We conclude that this work lays a solid foundation for future applications of such a biosensor in terms of the diagnosis of diseases such as chronic inflammatory rheumatoid arthritis, genetic disorders and cancer, all of which are associated with aberrant glycosylation of protein biomarkers.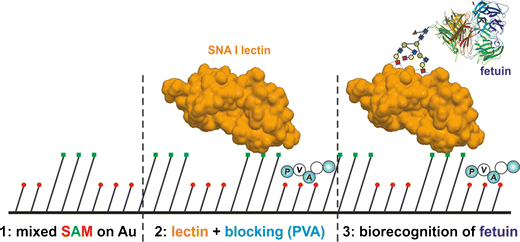 Keywords
Biosensor 
Electrochemical impedance spectroscopy (EIS) 
Glycoproteins 
Label-free detection 
Self-assembled monolayer (SAM) 
Sialic acid 
Notes
Acknowledgement
The financial support from the Slovak scientific grant agency VEGA 2/0127/10 and from the Slovak research and development agency APVV 0324-10 and APVV 0282-11 is acknowledged. This contribution/publication was the result of the project implementation: Centre for materials, layers and systems for applications and chemical processes under extreme conditions—stage II, supported by the Research and Development Operational Program funded by the ERDF. The research leading to these results has received funding from the European Research Council under the European Union's Seventh Framework Programme (FP/2007-2013)/ERC Grant Agreement n. 311532.
Copyright information
© Springer-Verlag Wien 2012