Electrokinetically-controlled RNA-DNA hybridization assay for foodborne pathogens
Abstract
We have developed a microfluidic chip for use in an RNA-DNA hybridization assay for foodborne pathogens. Automatic sequential reagent dispensing and washing was realized with a programmable DC voltage sequencer. Signal detection was achieved with a miniaturized optical detection module. Salmonella and Listeria monocytogenes bacteria in different concentrations were quantitatively determined by this RNA-DNA hybridization assay in the microfluidic chip. The detection limit for the Salmonella and Listeria monocytogenes bacteria is 103 to 104 CFU mL−1. The method excels by a significant reduction in the consumption of sample and reagent, and a short assay time. This automatic-operating microfluidic RNA-DNA hybridization assay is promising for on-site pathogen detection.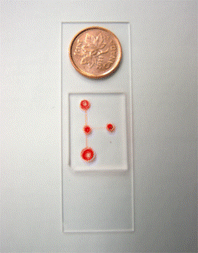 Keywords
RNA-DNA hybridization assay 
Electrokinetics 
Microfluidics 
Salmonella
Listeria monocytogenes
Notes
Acknowledgments
The authors would like to express appreciation to the financial support of the Canada Research Chairs program and the Natural Sciences and Engineering Research Council (NSERC) of Canada through a research grant to Dr. Dongqing Li. Thanks also go to Dr. Shu Chen and Dr. Honghe Cao (Laboratory Services Division, University of Guelph) for providing the reagents and bacterial samples.