Electrochemical detection of rutin with a carbon ionic liquid electrode modified by Nafion, graphene oxide and ionic liquid composite
Abstract
We report on a carbon ionic liquid electrode modified with a composite made from Nafion, graphene oxide and ionic liquid, and its application to the sensitive determination of rutin. The modified electrode was characterized by cyclic voltammetry and electrochemical impedance spectroscopy. It shows excellent cyclic voltammetric and differential pulse voltammetric performance due to the presence of nanoscale graphene oxide and the ionic liquid, and their interaction. A pair of well-defined redox peaks of rutin appears at pH 3.0, and the reduction peak current is linearly related to its concentration in the range from 0.08 μM to 0.1 mM with a detection limit of 0.016 μM (at 3σ). The modified electrode displays excellent selectivity and good stability, and was successfully applied to the determination of rutin in tablets with good recovery.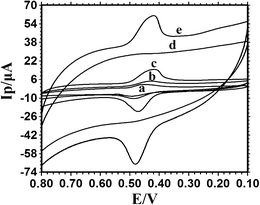 Keywords
Graphene oxide 
Ionic liquid 
Nafion 
Carbon ionic liquid electrode 
Rutin 
Electrochemistry 
Notes
Acknowledgments
We are grateful to the financial support of the Natural Science Foundation of China (No. 50976043, 21075071, 51076056), the Foundation of State Key Laboratory of Coal Combustion of Huazhong University of Science and Technology (FSKLCC1010) and the Foundation of State Key Laboratory of Clean Energy Utilization of Zhejiang University.