Flow injection on-line minicolumn preconcentration and determination of trace copper ions using an alumina/titanium oxide grafted silica matrix and FAAS
Abstract
We describe the analytical performance of a hybrid material composed of SiO2, Al2O3 and TiO2. It was prepared by a sol–gel process and can act as an adsorbent in the continuous-flow enrichment of copper. A minicolumn was packed with the material, copper ions are adsorbed at pH 9.13, then eluted with 1.0 mol L−1 nitric acid, and determined by FAAS. The material was characterized by infrared spectroscopy, scanning electron and energy dispersive spectroscopy, energy dispersive X-ray fluorescence analysis, powder X-ray diffraction, and specific surface area analysis. No significant interference was observed for most ions in up to copper/interferent ratios of 1:100 and of 1:500 in case of Ca(II), Ba(II), and Mg(II). The breakthrough capacity is 1.4 mg g−1 under dynamic conditions. The limits of detection and of quantification are 0.50 and 1.4 μg L−1, respectively, and the calibration plot is linear in the range from 5.0 to 245.0 μg L−1 (r = 0.999). The relative standard deviation is 3.20 (for n = 7 and at a Cu(II) concentration of 10 μg L−1). The method was applied to the determination of trace copper ions in water, vegetable and alcohol fuel samples.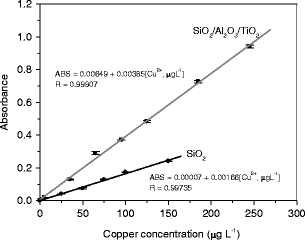 Keywords
Preconcentration 
Copper 
Silica/Alumina/Titanium 
Doehlert design 
Water 
Alcohol fuel 
Notes
Acknowledgements
The authors would like to thank the CNPq (Conselho Nacional de Desenvolvimento Científico e Tecnológico), the CAPES (Coordenação de Aperfeiçoamento de Pessoal de Nível Superior), the FAPERJ (Fundação Carlos Chagas Filho de Amparo à Pesquisa do Estado do Rio de Janeiro), the UFRJ (Universidade Federal do Rio de Janeiro), the Parana Araucaria Foundation (Fundação Araucária do Paraná), the FAEPE-UEL, and the INCT for Bioanalytics (Instituto Nacional de Ciência e Tecnologia de Bioanalítica) for their financial support and fellowships.