Direct electrochemical sensing of glucose using glucose oxidase immobilized on functionalized carbon nanotubes via a novel metal chelate-based affinity method
Abstract
We report on a novel amperometric glassy carbon biosensing electrode for glucose. It is based on the immobilization of a highly sensitive glucose oxidase (GOx) by affinity interaction on carbon nanotubes (CNTs) functionalized with iminodiacetic acid and metal chelates. The new technique for immobilization is exploiting the affinity of Co(II) ions to the histidine and cysteine moieties on the surface of GOx. The direct electrochemistry of immobilized GOx revealed that the functionalized CNTs greatly improve the direct electron transfer between GOx and the surface of the electrode to give a pair of well-defined and almost reversible redox peaks and undergoes fast heterogeneous electron transfer with a rate constant (k s) of 0.59 s−1. The GOx immobilized in this way fully retained its activity for the oxidation of glucose. The resulting biosensor is capable of detecting glucose at levels as low as 0.01 mM, and has excellent operational stability (with no decrease in the activity of enzyme over a 10 days period). The method of immobilizing GOx is easy and also provides a model technique for potential use with other redox enzymes and proteins.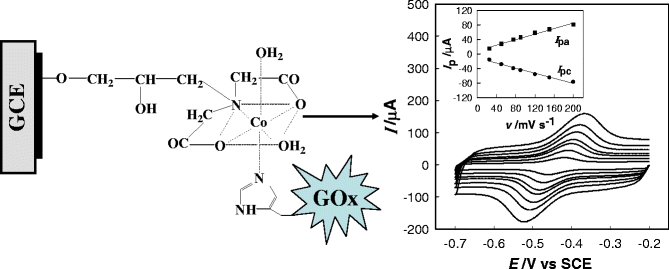 Keywords
Glucose oxidase 
Direct electrochemistry 
Carbon nanotubes 
Metal chelate affinity 
Notes
Acknowledgement
This work was supported by the National Outstanding Youth Foundations of China (No. 50725825), National Natural Science Foundation of China (No. 50908113), the Natural Science Foundation of Jiangxi Province (No. 2008GZH0008), and the Youth Foundation of Jiangxi Provincial Department of Education (No. GJJ09483).