Non-enzymatic amperometric sensor for hydrogen peroxide based on a biocomposite made from chitosan, hemoglobin, and silver nanoparticles
Abstract
We report on a novel non-enzymatic sensor for hydrogen peroxide (HP) that is based on a biocomposite made up from chitosan (CS), hemoglobin (Hb), and silver nanoparticles (AgNPs). The AgNPs were prepared in the presence of CS and glucose in an ultrasonic bath, and CS is found to act as a stabilizing agent. They were then combined with Hb and CS to construct a carbon paste biosensor. The resulting electrode gave a well-defined redox couple for Hb, with a formal potential of about −0.17 V (vs. SCE) at pH 6.86 and exhibited a remarkable electrocatalytic activity for the reduction of HP. The sensor was used to detect HP by flow injection analysis, and a linear response is obtained in the 0.08 to 250 μM concentration range. The detection limit is 0.05 μM (at S/N = 3). These characteristics, along with its long-term stability make the sensor highly promising for the amperometric determination of HP.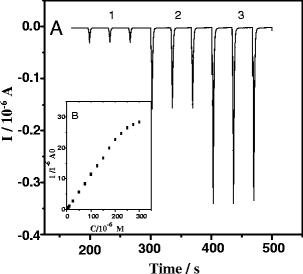 Keywords
Hydrogen peroxide 
Silver nanoparticles 
Hemoglobin 
Chitosan 
Notes
Acknowledgement
The authors acknowledge gratefully the financial support of the program of Science and Technology of department of education of Jilin Province and Changchun Normal University Natural Science Foundation.