Comparative study of the sol–gel based solid phase microextraction fibers in extraction of naphthalene, fluorene, anthracene and phenanthrene from saffron samples extractants
Abstract
We are introducing a method for the determination of some polycyclic aromatic hydrocarbons in aqueous saffron sample by direct immersion solid phase microextraction (SPME) and gas chromatography. A sol–gel technique is used for the preparation of the SPME fibers. Three kinds of sol–gel coatings on the fibers were tested and compared. They are composed of poly(dimethyl siloxane) (PDMS), poly(ethylene glycol) (PEG), and a poly(ethylene glycol) modified with multi-walled carbon nanotubes (PEG/CNTs). The effects of fiber coating, desorption time, desorption temperature, extraction time, stirring speed and salting effect were optimized. Under the optimal conditions, the detection limits (at S/N = 3) are 7–50, 5–50, and 1–10 pg mL–1, respectively, for SPME fibers made from PDMS, PEG and PEG/CNTs. The relative standard deviations for one type of fiber are from 2.1% to 9.6% for all fibers (at n = 5), and in the range from 1.9% to 9.8% from batch to batch (for n = 3).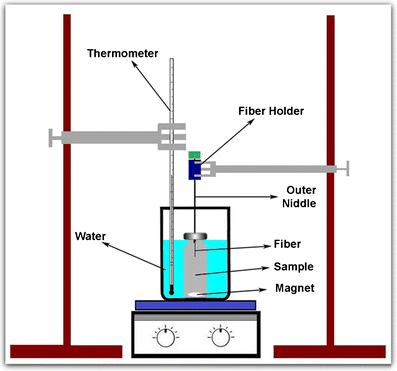 Keywords
Polycyclic aromatic hydrocarbons 
SPME 
GC–FID 
Sol–gel technique 
Multi-walled carbon nanotubes (MWCNTs) 
Saffron 
Notes
Acknowledgment
The authors are thankful to Ferdowsi University of Mashhad, Iran, for financial support of this work.