Homogeneous immunoassay for human IgG using oriented hen egg IgY immobilized on gold sol nanoparticles
Abstract
Homogeneous immunoassays using (red) gold nanoparticles represent an attractive detection scheme because of the option of photometric readout. We have applied oriented immobilization of hen egg immunoglobulin Y (IgY) on gold nanoparticles when developing a homogeneous immunoassay for human IgG. In oriented immobilization, as opposed to random immobilization, the antigen binding capabilities of the antibodies are retained. It is shown that such immunoassay has significantly better sensitivity in comparison with methods based on conventional immobilization of affinity-purified antibodies. It is also shown that hen egg IgY is better suited than rabbit antibodies, because much more antibody can be immobilized on gold nanoparticles without any destabilization, probably because of the more acidic nature of these antibodies. In addition, hen egg IgY can be supplied in higher quantity and can be prepared more easily than IgG from rabbits. Bleeding and slaughtering of animals is not needed. The assay presented here has a wide detection range (30–500 ng .mL−1) and a limit of detection as low as 30 ng.mL−1 of human IgG.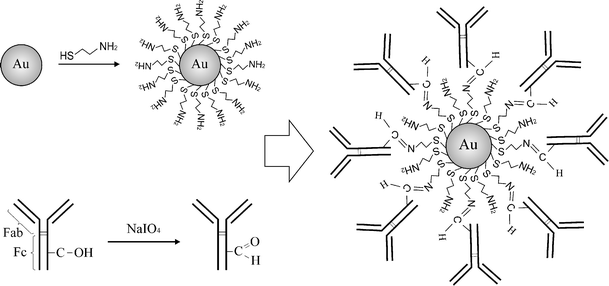 Keywords
Gold nanoparticle 
Immunoassay 
Immunoglobulin Y 
Oriented immobilization 
Notes
Acknowledgments
Authors acknowledge to Dr. Mariam Mikaelyan for attentive study of manuscript and for language support. We acknowledge to Dr. Hayk Harutyunyan for support in graphical works.