Highly sensitive detection of lead(II) ion using multicolor CdTe quantum dots
Abstract
Multicolor and water-soluble CdTe quantum dots (QDs) were synthesized with thioglycolic acid (TGA) as stabilizer. These QDs have a good size distribution, display high fluorescence quantum yield, and can be applied to the ultrasensitive detection of Pb(II) ion by virtue of their quenching effect. The size of the QDs exerts a strong effect on sensitivity, and quenching of luminescence is most effective for the smallest particles. The quenching mechanism is discussed. Fairly selective detection was accomplished by utilizing QDs with a diameter of 1.6 nm which resulted in a detection limit of 4.7 nmol L−1 concentration of Pb(II). The method was successfully applied to the determination of Pb(II) in spinach and citrus leaves, and the results are in good agreement with those obtained with atomic absorption spectrometry.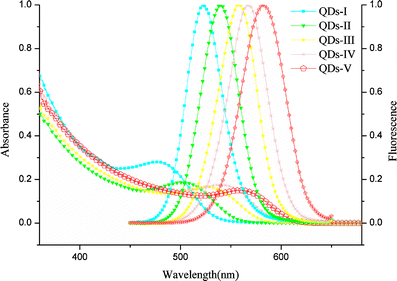 Keywords
CdTe quantum dots (QDs) 
Multicolor 
Fluorescence quenching 
Lead(II) 
Notes
Acknowledgement
This work was financially supported by the National Natural Science Foundation of China (No. 20975050) and Jiangsu Province Program of Top-level Talents.