Glucose biosensor based on glucose oxidase immobilized on a nanofilm composed of mesoporous hydroxyapatite, titanium dioxide, and modified with multi-walled carbon nanotubes
Abstract
We report on a highly sensitive glucose biosensor that was fabricated from a composite made from mesoporous hydroxyapatite and mesoporous titanium dioxide which then were ultrasonically mixed with multi-walled carbon nanotubes to form a rough nanocomposite film. This film served as a platform to immobilize glucose oxidase onto a glassy carbon electrode. The morphological and electrochemical properties of the film were examined by scanning electron microscopy and electrochemical impedance spectroscopy. Cyclic voltammetry and chronoamperometry were used to characterize the electrochemical performances of the biosensor which exhibited excellent electrocatalytic activity to the oxidation of glucose. At an operating potential of 0.3 V and pH 6.8, the sensor displays a sensitivity of 57.0 μA mM−1 cm−2, a response time of <5 s, a linear dynamic range from 0.01 to 15.2 mM, a correlation coefficient of 0.9985, and a detection limit of 2 μM at an SNR of 3. No interferences are found for uric acid, ascorbic acid, dopamine and most carbohydrates. The sensor is stable and was successfully applied to the determination of glucose in real samples.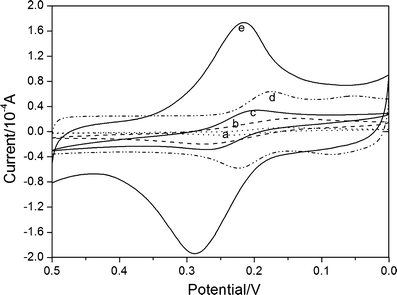 Keywords
Glucose biosensor 
Glucose oxidase 
Nanocomposite 
Electrochemical determination 
Notes
Acknowledgements
This work is kindly supported by the supports of the Open Fund Project of Key Laboratory in Hunan Universities (No. 09K099, No. 10K010) and the Department of Science and Technology of Hengyang City (No. 2009KG23, No. 2009KG50).