FET immunosensor for hemoglobin A1c using a gold nanofilm grown by a seed-mediated technique and covered with mixed self-assembled monolayers
Abstract
A micro FET-based immunosensor was developed for the determination of hemoglobin-A1c (HbA1c). The HbA1c/hemoglobin ratio is an important index in diabetes control. The sensor was fabricated by Complementary Metal-Oxide-Semiconductor Transistor (CMOS) and Micro Electronic Mechanical System (MEMS) techniques. The antibodies were immobilized via mixed self-assembled monolayers (SAMs) on a gold nanofilm. The nanofilm was deposited on a gold electrode by seed-mediated growth and gave a uniform and well distributed coverage. Nonspecific sites and interferences by noise were eliminated by covering the AuNPs with mixed SAMs. Compared to the immunosensor fabricated via the mixed SAMs method without gold nanofilm, the immunosensor displays a more than 2-fold sensitivity. The immunosensor is capable of detecting HbA1c and hemoglobin in hemolyzed and diluted whole blood, and results showed good agreement with the established clinical method.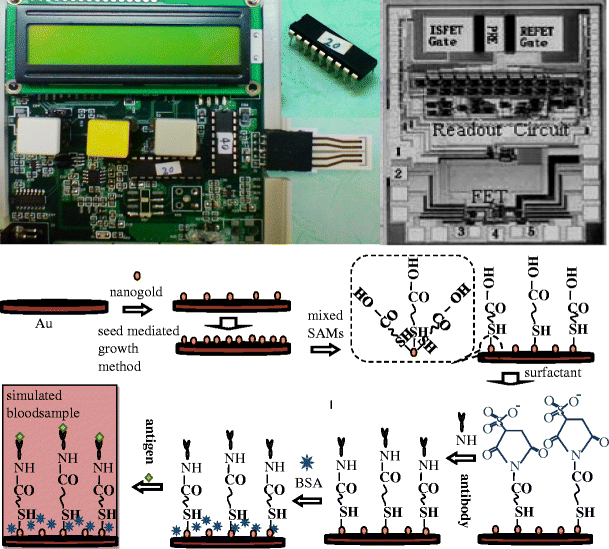 Keywords
Micro immunosensor 
Mixed self-assembled monolayers (mixed SAMs) 
Potentiometric 
Nano-gold 
Ion-sensitive field-effect transistors (ISFETs) 
Notes
Acknowledgment
This work is supported by the National Basic Research Program of China (973 Program) (Project Number 2009CB320300).