Synthesis of multi-branched gold nanoparticles by reduction of tetrachloroauric acid with Tris base, and their application to SERS and cellular imaging
Abstract
We show that tris base (TB), a widely used buffer substance, can act as a reducing agent to synthesize multi-branched gold nanoparticles (mb-AuNPs) from tetrachloroauric acid in a one-step process. The method is simple, fast, and inexpensive and produces mb-AuNPs that are virtually monodisperse, have a size of about 90 nm and typically >6 branches. Their UV-vis absorption peaks can be fine-tuned from the visible to the near-infrared (NIR) region by controlling the concentration of TB. The mb-AuNPs represent an efficient substrate for surface-enhanced Raman scattering (SERS), with an enhancement factor of 1.2 × 105. They were applied as substrates for SERS-based imaging of kidney cells.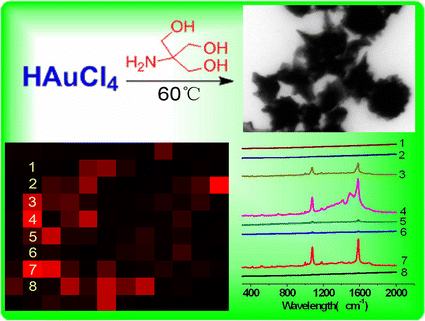 Keywords
Multi-branched gold nanoparticles 
Tris base 
Synthesis 
Surface-enhanced Raman scattering 
Cell imaging 
Notes
Acknowledgement
The authors gratefully acknowledge the support for this research by the National Natural Science Foundation of China (20975042), the Program for Academic Pacesetter of Wuhan (200851430484), Nature Science Foundation key project from Hubei Province of China (2008CDA080), International Science and Technology cooperation and Exchange Foundation (2008DFA40270), the Fundamental Research Funds for the Central Universities of China (2009JC005) and Genetically Modified Major Projects (2009ZX08012-015B).