Biosensor based on a glassy carbon electrode modified with tyrosinase immmobilized on multiwalled carbon nanotubes
Abstract
We describe a biosensor for phenolic compounds that is based on a glassy carbon electrode modified with tyrosinase immobilized on multiwalled carbon nanotubes (MWNTs). The MWNTs possess excellent inherent electrical conductivity which enhances the electron transfer rate and results in good electrochemical catalytic activity towards the reduction of benzoquinone produced by enzymatic reaction. The biosensor was characterized by cyclic voltammetry, and the experimental conditions were optimized. The cathodíc current is linearly related to the concentration of the phenols between 0.4 μM and 10 μM, and the detection limit is 0.2 μM. The method was applied to the determination of phenol in water samples.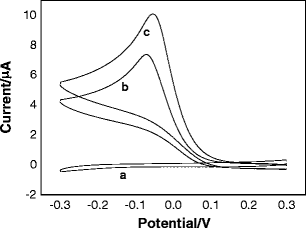 Keywords
Tyrosinase 
Multiwalled carbon nanotubes 
Electrochemical biosensors 
Phenols 
Notes
Acknowledgements
This work was supported by the National Natural Science Foundation of China (No. 20247002), Beijing Natural Science Foundation (No.8102009), the Beijing Municipal Education Commission Scientific Technological Project Foundation (No. KZ201110005006) and Beijing Municipal institution of higher learning academic innovating group projects (No. PHR 201007105).