Ultratrace determination of carbamate pesticides in water samples by temperature controlled ionic liquid dispersive liquid phase microextraction combined with high performance liquid phase chromatography
Abstract
A simple and sensitive method was developed for the determination of three carbamate pesticides in water samples. It is based on temperature controlled ionic liquid dispersive liquid phase microextraction combined with high-performance liquid chromatography. The ionic liquid 1-hexyl-3-methylimidazolium hexafluorophosphate was used as the extractant, and the factors affecting the extraction were investigated in detail. The detection limits obtained for isoprocarb, diethofencarb and fenothiocarb are 0.91, 0.45, and 1.40 μgL-1, respectively, and the precisions are in the range between 1.0 and 1.8% (n = 6). The method was validated with environmental water samples and the results indicate that it represents a viable alternative to existing methods.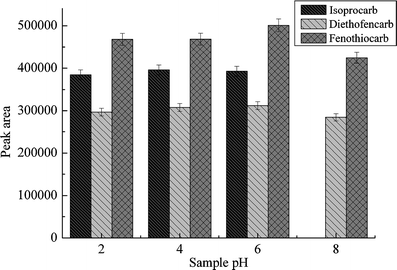 Keywords
1-Hexyl-3-methylimidazolium hexafluorophosphate 
Carbamate pesticides 
Temperature controlled ionic liquid dispersive liquid phase microextraction 
High performance liquid chromatography 
Notes
Acknowledgements
This work was financially supported by the National Natural Science Foundation of China (20877022) and the Personal Innovation Foundation of Universities in Henan Province ([2005]126).