Electrochemistry and voltammetric determination of L-tryptophan and L-tyrosine using a glassy carbon electrode modified with a Nafion/TiO2-graphene composite film
Abstract
We describe a glassy carbon electrode (GCE) modified with a film composed of Nafion and TiO2-graphene (TiO2-GR) nanocomposite, and its voltammetric response to the amino acids L-tryptophane (Trp) and L-tyrosine (Tyr). The incorporation of TiO2 nanoparticles with graphene significantly improves the electrocatalytic activity and voltammetric response compared to electrodes modified with Nafion/graphene only. The Nafion/TiO2-GR modified electrode was used to determine Trp and Tyr with detection limits of 0.7 and 2.3 μM, and a sensitivity of 75.9 and 22.8 μA mM−1 for Trp and Tyr, respectively.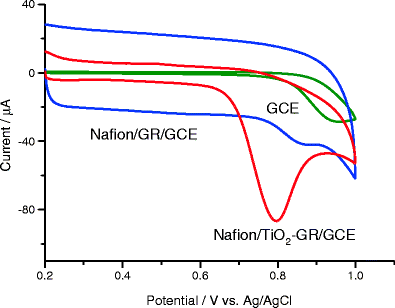 Keywords
Graphene 
TiO2-graphene nanocomposite 
Electrochemical sensor 
Tryptophan 
Tyrosine 
Notes
Acknowledgements
This work was financially supported by the National Natural Science Foundation of China (No. 21002082) and the Key Project of Chinese Ministry of Education (No. 210129).