Microfluidic robotic device coupled with electrochemical sensor field for handling of paramagnetic micro-particles as a tool for determination of plant mRNA
Abstract
The expression of genes responsible for the biosynthesis of stress proteins corresponds to the exposition of an organism to abiotic and/or biotic stress. We utilize two types of paramagnetic particles for isolation of total mRNA from early somatic embryos of Norway Spruce (Picea abies /L./ Karst.) and maize plants (Zea mays L.) treated with cadmium(II) ions. The paramagnetic particles were evaluated for analysis of real samples, and poly-adenine was used as a model mRNA. Various approaches (from non-automatic to fully automatic) were tested in terms of handling the particles.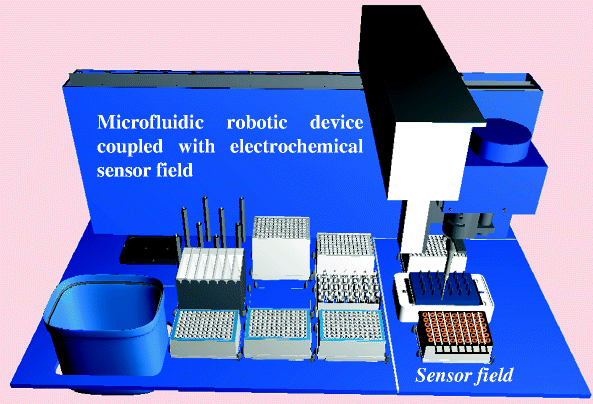 Keywords
Electrochemical detection 
Microfluidics 
Environmental stress 
Cadmium ions 
Paramagnetic particles 
Notes
Acknowledgement
The financial support from the grant NANOSEMED KAN208130801, INCHEMBIOL MSM0021622412 and REMEDTECH GACR 522/07/0692 is highly acknowledged. The authors wish to express their thanks to Jiri Baloun for excellent technical assistance.