Abstract
Pleurectomy–decortication (P/D) is lung-sparing surgery with curative intent for malignant pleural mesothelioma (MPM). Visceral pleurectomy is the most challenging step in this procedure. At the beginning of pleurectomy, a sharp pleural incision through the tumor is usually made to create the dissection plane between the visceral pleura and the lung parenchyma, which may cause the spread of tumor cells into the operation field. Here, we describe a sophisticated surgical technique of P/D without any pleural incision ("non-incisional P/D") to achieve en bloc removal of the entire pleura and tumor, which may improve postoperative survival by preventing tumor spread.
This is a preview of subscription content, log in to check access.
Access options
Buy single article
Instant unlimited access to the full article PDF.
US$ 39.95
Price includes VAT for USA
Subscribe to journal
Immediate online access to all issues from 2019. Subscription will auto renew annually.
US$ 99
This is the net price. Taxes to be calculated in checkout.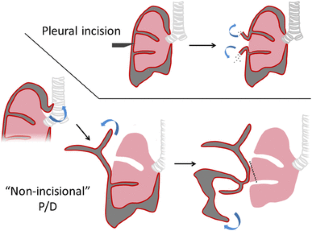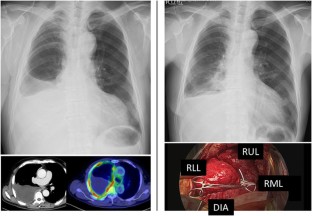 References
1.

Sugarbaker DJ. Macroscopic complete resection: the goal of primary surgery in multimodality therapy for pleural mesothelioma. J Thorac Oncol. 2006;1:175–6.

2.

Flores RM. Surgical options in malignant pleural mesothelioma: extrapleural pneumonectomy or pleurectomy/decortication. Semin Thorac Cardiovasc Surg. 2009;21:149 – 53.

3.

Bölükbas S, Eberlein M, Schirren J. Video-atlas of radical pleurectomy for malignant pleural mesothelioma. Ann Cardiothorac Surg. 2012;1:534–6.

4.

Freiberg JS. The state of the art in the technical performance of lung-sparing operations for malignant pleural mesothelioma. Semin Thoracic Surg. 2013;25:125–43.

5.

Miyamoto Y, Ito A, Miura Y, Sakane T, Watanabe R, Imanishi N, et al. PD for malignant pleural mesothelioma without any pleural incision. J Jpn Assoc Chest Surg. 2015;29:32 (Japanese)

6.

Vlahu T, Vigneswaran WT. Pleurectomy and decortication. Ann Transl Med. 2017;5:246.
Ethics declarations
Conflict of interest
All authors declared that they have no conflict of interest.
Electronic supplementary material
Below is the link to the electronic supplementary material.
Supplementary material 1 (MP4 472985 KB)
About this article
Cite this article
Tanaka, F., Imanishi, N., Takenaka, M. et al. Non-incisional pleurectomy–decortication for malignant pleural mesothelioma. Surg Today 48, 656–658 (2018). https://doi.org/10.1007/s00595-018-1624-0
Received:

Accepted:

Published:

Issue Date:
Keywords
Pleurectomy–decortication

Malignant pleural mesothelioma

Non-incisional pleurectomy