Abstract
The GIA Radial Reload is a surgical stapler with a curved cut line that is perpendicular to the direction of instrument insertion. We used the GIA Radial Reload in three cases of single-port thoracoscopic lung wedge resection. The operations were performed through a 3.0–4.5-cm incision. For the first stapler, we selected the GIA Radial Reload. The orientation of this device's cut line enabled us to easily cut the lung behind the lesion during single-port thoracoscopic surgery.
This is a preview of subscription content, log in to check access.
Access options
Buy single article
Instant unlimited access to the full article PDF.
US$ 39.95
Price includes VAT for USA
Subscribe to journal
Immediate online access to all issues from 2019. Subscription will auto renew annually.
US$ 99
This is the net price. Taxes to be calculated in checkout.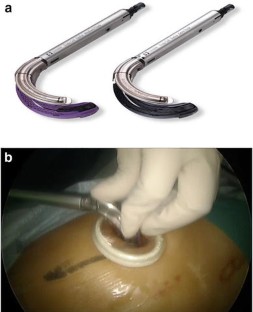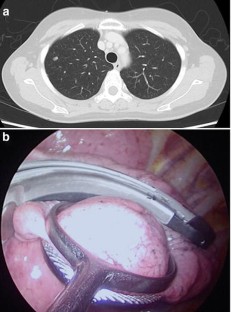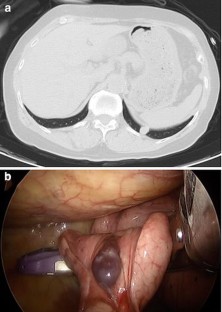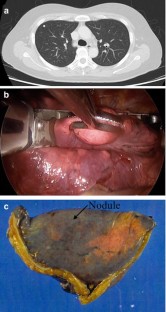 References
1.

Hirai K, Takeuchi S, Usuda J. Single-port video-assisted thoracic surgery for early lung cancer: initial experience in Japan. J Thorac Dis. 2016;8:S344–50.

2.

Katayama H, Kurokawa Y, Nakamura K, Ito H, Kanemitsu Y, Masuda N, et al. Extended Clavien–Dindo classification of surgical complications: Japan Clinical Oncology Group postoperative complications criteria. Surg Today. 2016;46:668–85.

3.

Rocco G, Martin-Ucar A, Passera E. Uniportal VATS wedge pulmonary resections. Ann Thorac Surg. 2004;77:726–8.

4.

Ema T. The experience of using Endo GIA Radial Reload with Tri-staple Technology for various lung surgery. J Thorac Dis. 2014;6:1482–4.

5.

Nakajima J, Murakawa T, Fukami T, Sano A, Sugiura M, Takamoto S. Is finger palpation at operation indispensable for pulmonary metastasectomy in colorectal cancer? Ann Thorac Surg. 2007;84:1680–4.

6.

Sano A, Kawashima M. Thoracoscopic reoperation for recurrent pneumothorax after single-incision thoracoscopic surgery. Asian J Endosc Surg. 2015;8:480–2.
Ethics declarations
Conflict of interest
The authors declare no conflicts of interest in association with the present study.
Electronic supplementary material
Below is the link to the electronic supplementary material.
Video 1. The intraoperative view in case 2. The GIA Radial Reload was inserted through the port and the target lesion was positioned within the arch of the device. (MPG 4196 kb)
About this article
Cite this article
Sano, A., Yotsumoto, T. Single-port thoracoscopic lung wedge resection using the Endo GIA Radial Reload. Surg Today 48, 248–251 (2018). https://doi.org/10.1007/s00595-017-1572-0
Received:

Accepted:

Published:

Issue Date:
Keywords
Single-port surgery

Thoracoscopy

Stapler