Abstract
Purpose
Oral adjuvant uracil and tegafur plus leucovorin (UFT/LV) is not inferior to standard weekly fluorouracil and folinate for stage II/III colon cancer. However, protein-bound polysaccharide K (PSK) has been evaluated as postoperative adjuvant therapy for colorectal cancer. This report is the first of MCSGO-CCTG, which compared UFT/LV to UFT/PSK as adjuvant chemotherapy for stage IIB or III colorectal cancer in patients who had undergone Japanese D2/D3 lymph node dissection.
Methods
The primary endpoint was the 3-year disease-free survival (DFS). A randomized non-inferiority study compared UFT/LV to UFT/PSK. The overall survival, adverse events, compliance, and quality of life were also investigated as the secondary endpoints.
Results
Between March 2006 and December 2010, 357 patients were randomized to UFT/PSK (n = 178) or UFT/LV (n = 179) (median age 65 years, colon/rectum 67.4/32.6%, stage IIB/IIIA/IIIB/IIIC 11.1/15.7/55.0/18.2%). The 3-year DFS rate was 82.3% in those receiving UFT/LV and 72.1% in those receiving UFT/PSK. The non-inferiority of UFT/PSK adjuvant therapy to UFT/LV therapy was not verified (−9.06%, 90% confidence interval −17.06 to −1.06%). The 3-year overall survival rate was 95.4% in those receiving UFT/LV and 90.7% in those receiving UFT/PSK.
Conclusions
As adjuvant chemotherapy for stage IIB and III colorectal cancer patients, UFT/PSK adjuvant therapy was not non-inferior to UFT/LV therapy with respect to the DFS.
This is a preview of subscription content, log in to check access.
Access options
Buy single article
Instant access to the full article PDF.
US$ 39.95
Price includes VAT for USA
Subscribe to journal
Immediate online access to all issues from 2019. Subscription will auto renew annually.
US$ 99
This is the net price. Taxes to be calculated in checkout.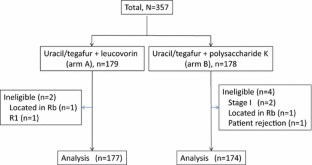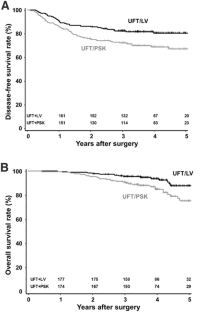 References
1.

Moertel CG, Fleming TR, Macdonald JS, Haller DG, Laurie JA, Goodman PJ, et al. Levamisole and fluorouracil for adjuvant therapy of resected colon carcinoma. N Engl J Med. 1990;322(6):352–8.

2.

Colvin H, Mizushima T, Eguchi H, Takiguchi S, Doki Y, Mori M. Gastroenterological surgery in Japan: the past, the present and the future. Ann Gastroenterol Surg. 2017;1:5–10.

3.

Hamaguchi T, Shirao K, Moriya Y, Yoshida S, Kodaira S, Ohashi Y, et al. Final results of randomized trials by the National Surgical Adjuvant Study of Colorectal Cancer (NSAS-CC). Cancer Chemother Pharmacol. 2011;67(3):587–96.

4.

Sakamoto J, Hamada C, Yoshida S, Kodaira S, Yasutomi M, Kato T, et al. An individual patient data meta-analysis of adjuvant therapy with uracil-tegafur (UFT) in patients with curatively resected rectal cancer. Br J Cancer. 2007;96(8):1170–7.

5.

Lembersky BC, Wieand HS, Petrelli NJ, O'Connell MJ, Colangelo LH, Smith RE, et al. Oral uracil and tegafur plus leucovorin compared with intravenous fluorouracil and leucovorin in stage II and III carcinoma of the colon: results from National Surgical Adjuvant Breast and Bowel Project Protocol C-06. J Clin Oncol. 2006;24(13):2059–64.

6.

Shimada Y, Hamaguchi T, Mizusawa J, Saito N, Kanemitsu Y, Takiguchi N, et al. Randomised phase III trial of adjuvant chemotherapy with oral uracil and tegafur plus leucovorin versus intravenous fluorouracil and levofolinate in patients with stage III colorectal cancer who have undergone Japanese D2/D3 lymph node dissection: final results of JCOG0205. Eur J Cancer. 2014;50(13):2231–40.

7.

Ward SE, Kaltenthaler E, Cowan J, Marples M, Orr B, Seymour MT. The clinical and economic benefits of capecitabine and tegafur with uracil in metastatic colorectal cancer. Br J Cancer. 2006;95(1):27–34.

8.

Fisher M, Yang LX. Anticancer effects and mechanisms of polysaccharide-K (PSK): implications of cancer immunotherapy. Anticancer Res. 2002;22(3):1737–54.

9.

Lu H, Yang Y, Gad E, Wenner CA, Chang A, Larson ER, et al. Polysaccharide krestin is a novel TLR2 agonist that mediates inhibition of tumor growth via stimulation of CD8 T cells and NK cells. Clin Cancer Res. 2011;17(1):67–76.

10.

Ono Y, Hayashida T, Konagai A, Okazaki H, Miyao K, Kawachi S, et al. Direct inhibition of the transforming growth factor-beta pathway by protein-bound polysaccharide through inactivation of Smad2 signaling. Cancer Sci. 2012;103(2):317–24.

11.

Hirahara N, Fujioka M, Edamatsu T, Fujieda A, Sekine F, Wada T, et al. Protein-bound polysaccharide-K (PSK) induces apoptosis and inhibits proliferation of promyelomonocytic leukemia HL-60 cells. Anticancer Res. 2011;31(9):2733–8.

12.

Jimenez-Medina E, Berruguilla E, Romero I, Algarra I, Collado A, Garrido F, et al. The immunomodulator PSK induces in vitro cytotoxic activity in tumour cell lines via arrest of cell cycle and induction of apoptosis. BMC Cancer. 2008;8:78.

13.

Ito K, Nakazato H, Koike A, Takagi H, Saji S, Baba S, et al. Long-term effect of 5-fluorouracil enhanced by intermittent administration of polysaccharide K after curative resection of colon cancer. A randomized controlled trial for 7-year follow-up. Int J Colorectal Dis. 2004;19(2):157–64.

14.

Maehara Y, Moriguchi S, Sakaguchi Y, Emi Y, Kohnoe S, Tsujitani S, et al. Adjuvant chemotherapy enhances long-term survival of patients with advanced gastric cancer following curative resection. J Surg Oncol. 1990;45(3):169–72.

15.

Niimoto M, Hattori T, Tamada R, Sugimachi K, Inokuchi K, Ogawa N. Postoperative adjuvant immunochemotherapy with mitomycin C, futraful and PSK for gastric cancer. An analysis of data on 579 patients followed for 5 years. Jpn J Surg. 1988;18(6):681–6.

16.

Ohwada S, Ikeya T, Yokomori T, Kusaba T, Roppongi T, Takahashi T, et al. Adjuvant immunochemotherapy with oral tegafur/uracil plus PSK in patients with stage II or III colorectal cancer: a randomised controlled study. Br J Cancer. 2004;90(5):1003–10.

17.

Torisu M, Hayashi Y, Ishimitsu T, Fujimura T, Iwasaki K, Katano M, et al. Significant prolongation of disease-free period gained by oral polysaccharide K (PSK) administration after curative surgical operation of colorectal cancer. Cancer Immunol Immunother. 1990;31(5):261–8.

18.

Ohwada S, Kawate S, Ikeya T, Yokomori T, Kusaba T, Roppongi T, et al. Adjuvant therapy with protein-bound polysaccharide K and tegafur uracil in patients with stage II or III colorectal cancer: randomized, controlled trial. Dis Colon Rectum. 2003;46(8):1060–8.

19.

Sadahiro S, Suzuki T, Maeda Y, Tanaka A, Kamijo A, Murayama C, et al. Effects of preoperative immunochemoradiotherapy and chemoradiotherapy on immune responses in patients with rectal adenocarcinoma. Anticancer Res. 2010;30(3):993–9.

20.

Farrington CP, Manning G. Test statistics and sample size formulae for comparative binomial trials with null hypothesis of non-zero risk difference or non-unity relative risk. Stat Med. 1990;9(12):1447–54.

21.

Andre T, Boni C, Mounedji-Boudiaf L, Navarro M, Tabernero J, Hickish T, et al. Oxaliplatin, fluorouracil, and leucovorin as adjuvant treatment for colon cancer. N Engl J Med. 2004;350(23):2343–51.

22.

Haller DG, Tabernero J, Maroun J, de Braud F, Price T, Van Cutsem E, et al. Capecitabine plus oxaliplatin compared with fluorouracil and folinic acid as adjuvant therapy for stage III colon cancer. J Clin Oncol. 2011;29(11):1465–71.

23.

Kuebler JP, Wieand HS, O'Connell MJ, Smith RE, Colangelo LH, Yothers G, et al. Oxaliplatin combined with weekly bolus fluorouracil and leucovorin as surgical adjuvant chemotherapy for stage II and III colon cancer: results from NSABP C-07. J Clin Oncol. 2007;25(16):2198–204.

24.

Mieno H, Yamashita K, Hosoda K, Moriya H, Higuchi K, Azuma M, et al. Conversion surgery after combination chemotherapy of docetaxel, cisplatin and S-1 (DCS) for far-advanced gastric cancer. Surg Today. 2017. doi:10.1007/s00595-017-1512-z.

25.

Kodera Y. Neoadjuvant chemotherapy for gastric adenocarcinoma in Japan. Surg Today. 2017. doi:10.1007/s00595-017-1473-2.

26.

Honma Y, Yamada Y, Terazawa T, Takashima A, Iwasa S, Kato K, et al. Feasibility of neoadjuvant S-1 and oxaliplatin followed by surgery for resectable advanced gastric adenocarcinoma. Surg Today. 2016;46(9):1076–82.

27.

Beppu N, Yoshie H, Kimura F, Aihara T, Doi H, Kamikonya N, et al. The short-term outcomes of induction SOX (S-1 + oxaliplatin) ± cetuximab chemotherapy followed by short-course chemoradiotherapy in patients with poor-risk locally advanced rectal cancer. Surg Today. 2016;46(10):1123–31.

28.

Watanabe T, Itabashi M, Shimada Y, Tanaka S, Ito Y, Ajioka Y, et al. Japanese Society for Cancer of the Colon and Rectum (JSCCR) guidelines 2010 for the treatment of colorectal cancer. Int J Clin Oncol. 2012;17(1):1–29.

29.

Topalian SL, Hodi FS, Brahmer JR, Gettinger SN, Smith DC, McDermott DF, et al. Safety, activity, and immune correlates of anti-PD-1 antibody in cancer. N Engl J Med. 2012;366(26):2443–54.

30.

Ooshiro M, Sugishita YI, Tanaka H, Koide K, Nagashima M, Katoh R. Regulation of perioperative immunological changes following laparotomy: effects of biological response modifier (BRM) on surgical stress. Immunol Lett. 2004;93(1):33–8.

31.

Okuzawa M, Shinohara H, Kobayashi T, Iwamoto M, Toyoda M, Tanigawa N. PSK, a protein-bound polysaccharide, overcomes defective maturation of dendritic cells exposed to tumor-derived factors in vitro. Int J Oncol. 2002;20(6):1189–95.
Acknowledgements
This study was supported by a Grant from The Supporting Center for Clinical Research and Education (Osaka, Japan), a nonprofit foundation. We thank Dr. Yuko Ohno and Makoto Fujii for the statistical analysis. We also thank the patients for their participation in this study and the study management teams and staff at the individual study sites.
Ethics declarations
Conflict of interest
Yasuhiro Miyake, Junichi Nishimura, and other co-authors have no conflict of interest.
About this article
Cite this article
Miyake, Y., Nishimura, J., Kato, T. et al. Phase III trial comparing UFT + PSK to UFT + LV in stage IIB, III colorectal cancer (MCSGO-CCTG). Surg Today 48, 66–72 (2018). https://doi.org/10.1007/s00595-017-1555-1
Received:

Accepted:

Published:

Issue Date:
Keywords
Colorectal cancer

Adjuvant therapy

Protein-bound polysaccharide K

UFT/LV

Stage IIB

Stage III