Abstract
We describe how we developed a new method of tying an intracorporeal suture of monofilament material using a bowline knot, which eliminates the troublesome C-loop formation for winding the thread on the rod. The winding-forceps point to the site of suturing, and the needle end of the thread is placed under the rod of the forceps during the knot tying. This position allows for easy winding of the line even when the forceps-angle is as narrow as 10° because the winding-forceps and suture line are in parallel. This method resolves the problems of C-loop formation with a narrow forceps-angle. Thus, our bowline method of knot-tying provides an easy, secure, and rapid intracorporeal ligation requiring a short learning curve, as an alternative to the conventional C-loop method.
This is a preview of subscription content, log in to check access.
Access options
Buy single article
Instant unlimited access to the full article PDF.
US$ 39.95
Price includes VAT for USA
Subscribe to journal
Immediate online access to all issues from 2019. Subscription will auto renew annually.
US$ 99
This is the net price. Taxes to be calculated in checkout.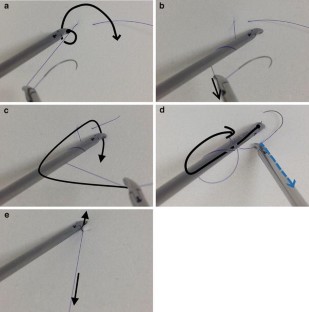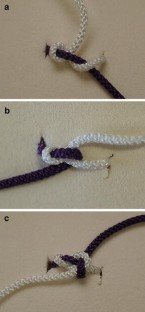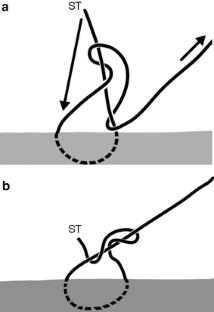 References
1.

Asao T, Tsutsumi S, Satoru Y, Fujii T, Mochiki E, Kuwano H. Novel method of the double-loop slip-knot: preknotting on the laparoscopic forceps enables easy and secure intracorporeal ligation. Surg Endosc. 2011;25:2487–91.

2.

Asao T, Yamaguchi S, Tsutsumi S, Mochiki E, Kuwano H. Experimental results and early clinical experience with an easy method for intracorporeal knot tying using a novel laparoscopic needleholder. Surg Endosc. 2007;21:1553–6.

3.

Menenakos E, Nassiopoulos K, Pavlidis T, Petropoulos P. Endokomvos: a simple and secure intracorporeal laparoscopic knot. JSLS. 2004;8:207–9.

4.

Dunkin BJ, Li Y, Marks JM, Ponsky JL. The "Yanni" knot: a simpler method of intracorporeal laparoscopic knot tying. J Am Coll Surg. 1997;185:492–3.

5.

Miller SS. Laparoscopic instrument tie. Br J Surg. 1994;81:1360–1.

6.

Lee J, Sung K, Lee D, Lee W, Kim W. Single-port laparoscopic repair of a perforated duodenal ulcer: intracorporeal "cross and twine" knotting. Surg Endosc. 2011;25:229–33.

7.

Endo T, Nagasawa K, Umemura K, Baba T, Henmi H, Saito T. A remarkably easy knot-tying technique for single-incision laparoscopic surgery with the SILS port for gynecologic diseases. J Minim Invasive Gynecol. 2011;18:500–2.
Conflict of interest
Takayuki Asao and his co-authors have no conflict of interest.
Electronic supplementary material
Below is the link to the electronic supplementary material.
Supplementary material 1 (MPEG 8340 kb)
About this article
Cite this article
Asao, T., Tsutsumi, S., Yamaguchi, S. et al. Bowline knot of a monofilament suture eliminates C-loop formation in intracorporeal ligation. Surg Today 43, 1075–1078 (2013) doi:10.1007/s00595-013-0596-3
Received:

Accepted:

Published:

Issue Date:
Keywords
Laparoscopy

Knot tie

Bowline