Abstract
Aims
Lowering postprandial lipemia may mitigate cardiovascular risk in patients with diabetic dyslipidemia. This study was aimed to investigate whether saroglitazar suppresses postprandial lipemia in patients with diabetes and dyslipidemia.
Methods
This was a 12-week, prospective, multicenter, randomized, double-blinded, placebo-controlled study of saroglitazar in patients with diabetes and dyslipidemia. Thirty patients were randomized (1:1) to receive saroglitazar 4 mg or placebo orally once daily with metformin for 12 weeks. The primary endpoint was change in plasma triglyceride (TG) area under the curve (AUC) on a standardized 8-h fat tolerance test.
Results
Thirty participants were randomized for interventions and eventually data of 19 participants qualified for per protocol analyses. Mean (SD) age in saroglitazar was 53.1 (8.8) years and 54.9 (7.7) years in placebo group. After 12 weeks, saroglitazar significantly lowered postprandial TG-AUC by − 458.3 (144.0) (− 25.7%, 95% CI − 765.1 to − 151.4) versus an increase of + 10.9 (157.9) (+ 0.5%, 95% CI − 325.6 to 347.3) mg/dL h in placebo group (P < 0.05). Saroglitazar lowered postprandial TG incremental AUC versus placebo: − 329.4 (89.9) (− 59%) versus + 80.4 (99.4) (+ 10%) mg/dL h (P < 0.05). HbA1c (%) decreased by − 0.36 (0.42) in the saroglitazar group as compared to an increase of + 1.26 (0.46) (P < 0.05) with placebo.
Conclusions
The saroglitazar treatment significantly improved postprandial TGs in people with diabetic dyslipidemia.
Trial registration
Clinical Trial Registry of India; trial Registration No.: CTRI/2015/06/005845 and Date of registration: June 02, 2015.
This is a preview of subscription content, log in to check access.
Access options
Buy single article
Instant access to the full article PDF.
US$ 39.95
Price includes VAT for USA
Subscribe to journal
Immediate online access to all issues from 2019. Subscription will auto renew annually.
US$ 99
This is the net price. Taxes to be calculated in checkout.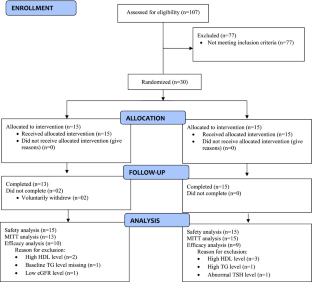 References
1.

Bornfeldt KE, Tabas I (2011) Insulin resistance, hyperglycemia, and atherosclerosis. Cell Metab 14(5):575–585

2.

Ginsberg H (2000) Insulin resistance and cardiovascular disease. J Clin Invest 106(4):453–458

3.

DeGoma EM, Davis MD, Dunbar RL, Mohler ER III, Greenland P, French B (2013) Discordance between non-HDL-cholesterol and LDL-particle measurements: results from the multi-ethnic study of atherosclerosis. Atherosclerosis 229(2):517–523

4.

Bansal S, Buring JE, Rifai N, Mora S, Sacks FM, Ridker PM (2007) Fasting compared with non-fasting triglycerides and risk of cardiovascular events in women. JAMA 298(3):309–316

5.

Karpe F, Steiner G, Uffelman K, Olivecrona T, Hamsten A (1994) Postprandial lipoproteins and progression of coronary atherosclerosis. Atherosclerosis 106(1):83–97

6.

Riccardi G, Rivellese AA (2000) Dietary treatment of the metabolic syndrome-the optimal diet. Br J Nutr 83(1):S143–S148

7.

Karpe F (2002) Postprandial lipemia—effect of lipid-lowering drugs. Atheroscler Suppl 3(1):41–46

8.

Bae JH, Bassenge E, Lee HJ et al (2001) Impact of postprandial hypertriglyceridemia on vascular responses in patients with coronary artery disease. Atherosclerosis 158(1):165–171

9.

Van Wijk JPH, De Koning EJP, Castro Cabezas M, Rabelink TJ (2005) Rosiglitazone improves postprandial triglyceride and free fatty acid metabolism in type 2 diabetes. Diabetes Care 28(4):844–849

10.

Chappuis B, Braun M, Stettler C et al (2007) Differential effect of pioglitazone (PGZ) and rosiglitazone (RGZ) on postprandial glucose and lipid metabolism in patients with type 2 diabetes mellitus: a prospective, randomized crossover study. Diabetes Metab Res Rev 23(5):392–399

11.

Roche HM, Gibney MJ (2000) Effect of long-chain n−3 polyunsaturated fatty acids on fasting and postprandial triacylglycerol metabolism. Am J Clin Nutr 71:232S–237S

12.

Usman MHU, Qamar A, Gadi R et al (2012) Extended-release niacin acutely suppresses postprandial triglyceridemia. Am J Med 125(10):1026–1035

13.

King JM, Crouse JR, Terry JG, Morgan TM, Spray BJ, Miller NE (1994) Evaluation of effects of unmodified niacin on fasting and postprandial plasma lipids in normolipidemic men with hypoalphalipoproteinemia. Am J Med 97(4):323–331

14.

Jain MR, Giri SR, Trivedi C et al (2015) Saroglitazar, a novel PPAR α/γ agonist with predominant PPAR α activity, shows lipid-lowering and insulin-sensitizing effects in preclinical models. Pharma Res Perspect 3(3):1–14

15.

Joshi SR (2015) Saroglitazar for the treatment of dyslipidemia in diabetic patients. Exp Opin Pharmacother 16(4):597–606

16.

American Diabetes Association (2013) Standard of medical care in diabetes-2013. Diabetes Care 36:S11–S66

17.

Kumar V, Madhu SV, Singh G, Gambhir JK (2010) Post-prandial hypertriglyceridemia in patients with type 2 diabetes mellitus with and without macrovascular disease. JAPI 58:603–607

18.

Westphal S, Wiens L, Güttler K, Dierkes J, Luley C (2003) Chylomicron remnants of various sizes are lowered more effectively by fenofibrate than by atorvastatin in patients with combined hyperlipidemia. Atherosclerosis 171(2):369–377

19.

Shiang KD (2004) The SAS® calculations of areas under the curve (AUC) for multiple metabolic readings. https://www.lexjansen.com/wuss/2004/posters/c_post_the_sas_calculations_.pdf. Accessed 10 May 2017

20.

Freiberg JJ, Tybjaerg-Hansen A, Jensen JS, Nordestgaard BG (2008) Nonfasting triglycerides and risk of ischemic stroke in the general population. JAMA 300(18):2142–2152

21.

Kazufumi N, Toru KY, Ito H (2016) Postprandial hyperlipidemia as a potential residual risk factor. J Cardiol 67(4):335–339

22.

Bhatt DL, Steg PG, Miller M, Brinton EA, Jacobson TA, Ketchum SB (2019) Cardiovascular risk reduction with icosapent ethyl for hypertriglyceridemia. N Engl J Med 380:11–22

23.

Vikas P, Paneerselvam A, Satinath M et al (2014) A multicenter prospective randomized double-blind study to evaluate the safety and efficacy of saroglitazar 2 and 4 mg compared to pioglitazone 45 mg in diabetic dyslipidemia (PRESS V). J Diabetes Sci Technol 8(1):132–141

24.

Jani RH, Pai V, Jha P et al (2014) A multicenter prospective randomized double-blind study to evaluate the safety and efficacy of Saroglitazar 2 and 4 mg compared with placebo in type 2 diabetes mellitus patients having hypertriglyceridemia not controlled with atorvastatin therapy (PRESS VI). Diabetes Technol Ther 16(2):63–71

25.

Kolovou GD, Mikhailidis DP, Kovar J et al (2011) Assessment and clinical relevance of non-fasting and postprandial triglycerides: An expert panel statement. Curr Vasc Pharmacol 9(3):258–270

26.

Jeppesen J, Zhou MY, Chen YD, Reaven GM (1994) Effect of glipizide treatment on postprandial lipaemia in patients with NIDDM. Diabetologia 37(8):781–787

27.

Vakkilainen J, Mero N, Schweizer A, Foley JE, Taskinen MR (2002) Effects of nateglinide and glibenclamide on postprandial lipid and glucose metabolism in type 2 diabetes. Diabetes Metab Res Rev 18(6):484–490

28.

Digenio A, Dunbar RL, Alexander VJ et al (2016) Antisense-mediated lowering of plasma apolipoprotein C-III by volanesorsen improves dyslipidemia and insulin sensitivity in type 2 diabetes. Diabetes Care 39(8):1408–1415

29.

Dunbar RL, Rader DJ (2005) Demystifying triglycerides: a practical approach for the clinician [review]. Clevel Clin J Med 72(8):661–666

30.

Davidson MH (2004) Emerging therapeutic strategies for the management of dyslipidemia in patients with the metabolic syndrome. Am J Cardiol 93(11A):3C–11C

31.

Tuteja S, Duffy D, Dunbar RL et al (2014) Pharmacokinetic interactions of the microsomal triglyceride transfer protein inhibitor, lomitapide, with drugs commonly used in the management of hypercholesterolemia. Pharmacotherapy 34(3):227–239

32.

Maki KC, Orloff DG, Nicholls SJ et al (2013) A highly bioavailable omega-3 free fatty acid formulation improves the cardiovascular risk profile in high-risk, statin-treated patients with residual hypertriglyceridemia (the ESPRIT trial). Clin Ther 35(9):1400–1411.e1-3

33.

Goldberg RB, Bittner VA, Dunbar RL et al (2016) Effects of extended-release niacin added to simvastatin/ezetimibe on glucose and insulin values in AIM-HIGH. Am J Med 129(7):753.e13-22

34.

Eliano P, Antonino B, Felicita A et al (2013) Meta-analysis of impact of different types and doses of statins on new-onset diabetes mellitus. Am J Cardiol 111(8):1123–1130

35.

Dunbar RL, Goel H, Tuteja S et al (2017) Measuring niacin-associated skin toxicity (NASTy) stigmata along with symptoms to aid development of niacin mimetics. J Lipid Res 58(4):783–797

36.

Dunbar RL, Goel H (2016) Niacin alternatives for dyslipidemia: fool's gold or gold mine? Part I: alternative niacin regimens. Curr Atheroscler Rep 18(2):11

37.

Fruchart JC (2017) Pemafibrate (K-877), a novel selective peroxisome proliferator-activated receptor alpha modulator for management of atherogenic dyslipidaemia. Cardiovasc Diabetol 16(1):124

38.

Goel H, Dunbar RL (2016) Niacin alternatives for dyslipidemia: fool's gold or gold mine? Part II: novel niacin mimetics. Curr Atheroscler Rep 18(4):17

39.

Daniel G, Digenio A, Alexander V et al (2017) The approach study: a randomized, double-blind, placebo-controlled, phase 3 study of volanesorsen administered subcutaneously to patients with familial chylomicronemia syndrome (FCS). Atherosclerosis 263:e10
Acknowledgements
This study was sponsored and funded by Cadila Healthcare Limited, a Zydus Group Company, Ahmedabad, Gujarat, India.
Ethics declarations
Conflict of interest
Dr. Jayesh Bhatt and Krupi Parmar are employees of Cadila Healthcare Limited, Ahmedabad. During the work carried out, Dr. Deven was the employee of Cadila Healthcare Limited, Ahmedabad, and currently is associated with Zydus Discovery DMCC, Dubai. During editing, Dr. Dunbar was employed by ICON plc and is presently employed by Amarin where he will own stock.
Ethics approval
The Institutional Ethics Committee of PGIMER, Chandigarh, date of approval March 10, 2015, and the Clinical Trial Ethics Committee, Bhatia Hospital, Tardeo Road, Mumbai, date of approval August 03, 2015, had reviewed and approved the study. The study complied with the ethical principles underlying the Declaration of Helsinki.
Informed consent
All participants gave written informed consent.
Additional information
Publisher's Note
Springer Nature remains neutral with regard to jurisdictional claims in published maps and institutional affiliations.
Managed by Massimo Porta.
About this article
Cite this article
Rastogi, A., Dunbar, R.L., Thacker, H.P. et al. Abrogation of postprandial triglyceridemia with dual PPAR α/γ agonist in type 2 diabetes mellitus: a randomized, placebo-controlled study. Acta Diabetol (2020). https://doi.org/10.1007/s00592-020-01487-8
Received:

Accepted:

Published:
Keywords
PPARs

Dyslipidemias

Triglyceride

Diabetes

Clinical trial