Abstract
Aims
The milk fat globule-epidermal growth factor 8 (MFGE8), also called lactadherin, is an integrin ligand and a known mediator of inflammation and atherosclerosis in T2DM in studies using animal models. However, its role in the pathophysiology of human T2DM, obesity, and cardiovascular disease has been poorly explored. Aim of this study  was to investigate the role of a missense variant (rs371227978 C/T: Arg148His) in the MFGE8 gene identified through exome sequencing for its association with T2DM and cardiometabolic traits.
Methods
Exome-wide sequencing was performed using DNA samples from 68 Sikh individuals from multi-generation pedigrees affected with diabetes on Illumina's GAIIx using "SureSelect Human All Exon" panels. We further replicated this variant by de novo genotyping in a total of 4242 individuals of the Asian Indian Diabetic Heart Study/Sikh Diabetes Study using custom TaqMan genotyping assay. We also measured circulating concentrations of Mfge8 using frozen serum aliquots by enzyme-linked immunosorbent assay.
Results
Overall, only 1.78% of 4242 individuals were carriers of this variant with MAF being 0.009. Except for the significant correlation of this variant with T2DM and triglycerides, no other quantitative risk phenotype was significant. The minor per allele-associated increased risk for T2DM showed odds ratio of 1.95 (95% CI 1.18–3.23; p = 0.008) in unadjusted model and was 1.73 (95% CI 1.02–2.93; p = 0.043) after adjusting for the age, gender, and BMI. However, there was a strong correlation between serum Mfge8 concentrations with T2DM, (r2 = 0.38; p = 0.001), fasting glucose (r2= 0.36; p = 0.002), and triglycerides (r2 = 0.33; p = 0.005). Our data revealed a significant dose-related increase in MFGE8 genotypes for affecting serum Mfge8 (p = 2.1 × 10−3) and triglyceride concentrations (p = 3.2 × 10−3). For a per risk allele-associated increase of 4.74 ng/ml ± SD of 1.62 ng/ml of the Mfge8 concentration was found to increase T2DM risk to 1.7 fold (95% CI from 1 to 3 fold).
Conclusions
Here, we report for the first time a novel population-specific rare variant in the MFGE8 gene linked with the increased Mfge8 concentrations and the risk for developing T2DM and cardiovascular risk factors in a population of Punjabi Sikhs from India. In view of a strong evidence from animal studies supporting the role of Mfge8 in obesity, insulin resistance, and the development of atherosclerosis in T2DM, our findings are important and timely. If validated in a large independent dataset, early screening of Mfge8 in blood levels may especially benefit those patients with genetically elevated Mfge8 levels to preventing or reducing the risk of T2DM and cardiovascular disease.
This is a preview of subscription content, log in to check access.
Access options
Buy single article
Instant access to the full article PDF.
US$ 39.95
Price includes VAT for USA
Subscribe to journal
Immediate online access to all issues from 2019. Subscription will auto renew annually.
US$ 99
This is the net price. Taxes to be calculated in checkout.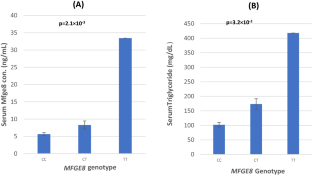 References
1.

Sanghera DK, Blackett PR (2012) Type 2 diabetes genetics: beyond GWAS. J Diabetes Metab 3(198):6948. https://doi.org/10.4172/2155-6156.1000198

2.

Aziz M, Jacob A, Matsuda A, Wang P (2011) Review: milk fat globule-EGF factor 8 expression, function and plausible signal transduction in resolving inflammation. Apoptosis: Int J Program Cell Death 16(11):1077–1086

3.

Hanayama R, Tanaka M, Miwa K, Shinohara A, Iwamatsu A, Nagata S (2002) Identification of a factor that links apoptotic cells to phagocytes. Nature 417(6885):182–187

4.

Hanayama R, Tanaka M, Miyasaka K et al (2004) Autoimmune disease and impaired uptake of apoptotic cells in MFG-E8-deficient mice. Science 304(5674):1147–1150

5.

Bu HF, Zuo XL, Wang X et al (2007) Milk fat globule-EGF factor 8/lactadherin plays a crucial role in maintenance and repair of murine intestinal epithelium. J Clin Investig 117(12):3673–3683

6.

Rankinen T, Zuberi A, Chagnon YC et al (2006) The human obesity gene map: the 2005 update. Obesity (Silver Spring). 14(4):529–644

7.

Cheng M, Li BY, Li XL et al (2012) Correlation between serum lactadherin and pulse wave velocity and cardiovascular risk factors in elderly patients with type 2 diabetes mellitus. Diabetes Res Clin Pract 95(1):125–131

8.

Khalifeh-Soltani A, Gupta D, Ha A et al (2016) Mfge8 regulates enterocyte lipid storage by promoting enterocyte triglyceride hydrolase activity. JCI Insight 1(18):e87418

9.

Sanghera DK, Bhatti JS, Bhatti GK et al (2006) The Khatri Sikh diabetes study (SDS): study design, methodology, sample collection, and initial results. Hum Biol 78(1):43–63

10.

Sanghera DK, Nath SK, Ortega L et al (2008) TCF7L2 polymorphisms are associated with type 2 diabetes in Khatri Sikhs from North India: genetic variation affects lipid levels. Ann Hum Genet 72:499–509

11.

Saxena R, Bjonnes A, Prescott J et al (2014) Genome-wide association study identifies variants in casein kinase II (CSNK2A2) to be associated with leukocyte telomere length in a Punjabi Sikh diabetic cohort. Circ Cardiovasc Genet 7(3):287–295

12.

Saxena R, Saleheen D, Been LF et al (2013) Genome-wide association study identifies a novel locus contributing to type 2 diabetes susceptibility in sikhs of punjabi origin from India. Diabetes 62(5):1746–1755

13.

American Diabetes A (2004) Diagnosis and classification of diabetes mellitus. Diabetes Care 27(Suppl 1):S5–S10

14.

Sanghera DK, Hopkins R, Malone-Perez MW et al (2019) Targeted sequencing of candidate genes of dyslipidemia in Punjabi Sikhs: population-specific rare variants in GCKR promote ectopic fat deposition. PLoS ONE 14(8):e0211661

15.

Sanghera DK, Bejar C, Sapkota B, Wander GS, Ralhan S (2018) Frequencies of poor metabolizer alleles of 12 pharmacogenomic actionable genes in Punjabi Sikhs of Indian Origin. Sci Rep 8(1):15742

16.

Panel WE (2004) Appropriate body-mass index for Asian populations and its implications for policy and intervention strategies. Lancet 363(9403):157–163

17.

Sanghera DK, Demirci FY, Been L et al (2010) PPARG and ADIPOQ gene polymorphisms increase type 2 diabetes mellitus risk in Asian Indian Sikhs: Pro12Ala still remains as the strongest predictor. Metab: Clin Exp 59(4):492–501

18.

Sapkota BR, Hopkins R, Bjonnes A et al (2016) Genome-wide association study of 25(OH) Vitamin D concentrations in Punjabi Sikhs: results of the Asian Indian diabetic heart study. J Steroid Biochem Mol Biol 158:149–156

19.

Sanghera DK, Manzi S, Minster RL et al (2008) Genetic variation in the paraoxonase-3 (PON3) gene is associated with serum PON1 activity. Ann Hum Genet 72(Pt 1):72–81

20.

Miller SA, Dykes DD, Polesky HF (1988) A simple salting out procedure for extracting DNA from human nucleated cells. Nucleic Acids Res 16(3):1215

21.

McKenna A, Hanna M, Banks E et al (2010) The genome analysis toolkit: a MapReduce framework for analyzing next-generation DNA sequencing data. Genome Res 20(9):1297–1303

22.

Li H, Durbin R (2009) Fast and accurate short read alignment with Burrows–Wheeler transform. Bioinformatics 25(14):1754–1760

23.

Li H, Handsaker B, Wysoker A et al (2009) The sequence alignment/map format and SAMtools. Bioinformatics 25(16):2078–2079

24.

Been LF, Hatfield JL, Shankar A et al (2012) A low frequency variant within the GWAS locus of MTNR1B affects fasting glucose concentrations: genetic risk is modulated by obesity. Nutr Metab Cardiovasc Dis 22(11):944–951

25.

Kooner JS, Saleheen D, Sim X et al (2011) Genome-wide association study in individuals of South Asian ancestry identifies six new type 2 diabetes susceptibility loci. Nat Genet 43(10):984–989

26.

Replication DIG, Meta-analysis C, Asian Genetic Epidemiology Network Type 2 Diabetes C et al (2014) Genome-wide trans-ancestry meta-analysis provides insight into the genetic architecture of type 2 diabetes susceptibility. Nat Genet 46(3):234–244

27.

Reddivari L, Sapkota BR, Rudraraju A et al (2017) Metabolite signatures of diabetes with cardiovascular disease: a pilot investigation. Metab: Off J Metab Soc 13(12):154

28.

Cooper RS, Tayo B, Zhu X (2008) Genome-wide association studies: implications for multiethnic samples. Hum Mol Genet 17(R2):R151–R155

29.

Stergachis A, Shy KK, Grothaus LC et al (1990) Tubal sterilization and the long-term risk of hysterectomy. JAMA: J Am Med Assoc 264(22):2893–2898

30.

Hokanson JE, Austin MA (1996) Plasma triglyceride level is a risk factor for cardiovascular disease independent of high-density lipoprotein cholesterol level: a meta-analysis of population-based prospective studies. J Cardiovasc Risk 3(2):213–219

31.

Freiberg JJ, Tybjaerg-Hansen A, Jensen JS, Nordestgaard BG (2008) Nonfasting triglycerides and risk of ischemic stroke in the general population. JAMA: J Am Med Assoc 300(18):2142–2152

32.

Khalifeh-Soltani A, McKleroy W, Sakuma S et al (2014) Mfge8 promotes obesity by mediating the uptake of dietary fats and serum fatty acids. Nat Med 20(2):175–183

33.

Yu F, Li BY, Li XL et al (2012) Proteomic analysis of aorta and protective effects of grape seed procyanidin B2 in db/db mice reveal a critical role of milk fat globule epidermal growth factor-8 in diabetic arterial damage. PLoS ONE 7(12):e52541
Acknowledgements
Authors thank all the participants of AIDHS/SDS who made this study possible. We thankfully acknowledge Dr. Piers Blackett for reviewing the manuscript review and suggestions.
Funding
The Sikh Diabetes Study/Asian Indian Diabetic Heart Study was supported by NIH Grants-R01DK082766 (NIDDK) and NOT-HG-11-009 (NHGRI) and Grants from Presbyterian Health Foundation; and Harold Hamm Diabetes Center, Oklahoma City, USA.
Ethics declarations
Conflict of interest
The authors declare that there is no conflict of interest that could be perceived as prejudicing the impartiality of the research reported.
Ethical approval
The study was reviewed and approved by the University of Oklahoma Health Sciences Center's Institutional Review Board, as well as the Human Subject Protection Committees at the participating hospitals and institutes in India.
Informed consent
All participants provided a written informed consent for investigations.
Additional information
Publisher's Note
Springer Nature remains neutral with regard to jurisdictional claims in published maps and institutional affiliations.
Managed by Massimo Porta.
Electronic supplementary material
Below is the link to the electronic supplementary material.
About this article
Cite this article
Sapkota, B.R., Sanghera, D.K. A rare missense variant in the milk fat globule-EGF factor 8 (MFGE8) increases T2DM susceptibility and cardiovascular disease risk with population-specific effects. Acta Diabetol (2020). https://doi.org/10.1007/s00592-019-01463-x
Received:

Accepted:

Published:
Keywords
MFGE8

Exome sequencing

Population-specific rare variant

Type 2 diabetes mellitus

Hypertriglyceridemia

Punjabi Sikhs