Urinary tubular biomarkers as predictors of kidney function decline, cardiovascular events and mortality in microalbuminuric type 2 diabetic patients
Part of the following topical collections:
Abstract
Aims
Urinary levels of kidney injury molecule 1 (u-KIM-1) and neutrophil gelatinase-associated lipocalin (u-NGAL) reflect proximal tubular pathophysiology and have been proposed as risk markers for development of complications in patients with type 2 diabetes (T2D). We clarify the predictive value of u-KIM-1 and u-NGAL for decline in eGFR, cardiovascular events (CVE) and all-cause mortality in patients with T2D and persistent microalbuminuria without clinical cardiovascular disease.
Methods
This is a prospective study that included 200 patients. u-KIM-1 and u-NGAL were measured at baseline and were available in 192 patients. Endpoints comprised: decline in eGFR > 30%, a composite of fatal and nonfatal CVE consisting of: cardiovascular mortality, myocardial infarction, stroke, ischemic heart disease and heart failure based on national hospital discharge registries, and all-cause mortality. Adjusted Cox models included traditional risk factors, including eGFR. Hazard ratios (HR) are provided per 1 standard deviation (SD) increment of log2-transformed values. Relative integrated discrimination improvement (rIDI) was calculated.
Results
During the 6.1 years' follow-up, higher u-KIM-1 was a predictor of eGFR decline (n = 29), CVE (n = 34) and all-cause mortality (n = 29) in adjusted models: HR (95% CI) 1.68 (1.04–2.71), p = 0.034; 2.26 (1.24–4.15), p = 0.008; and 1.52 (1.00–2.31), p = 0.049. u-KIM-1 contributed significantly to risk prediction for all-cause mortality evaluated by rIDI (63.1%, p = 0.001). u-NGAL was not a predictor of any of the outcomes after adjustment.
Conclusions
In patients with T2D and persistent microalbuminuria, u-KIM-1, but not u-NGAL, was an independent risk factor for decline in eGFR, CVE and all-cause mortality, and contributed significant discrimination for all-cause mortality, beyond traditional risk factors.
Keywords
Diabetic kidney disease 
Diabetic nephropathy 
Cardiovascular 
Albuminuria 
Biomarkers 
Type 2 diabetes 
Introduction
Despite innovation and progress in the treatment of persons with type 2 diabetes (T2D), this disease is still a considerable medical problem and a substantial risk factor for development of future disease. Mainly, cardiovascular disease and diabetic nephropathy are sizable causes of mortality and reduced quality of life, and early identification and prevention of these complications are of key importance to guarantee survival and improvement of patient satisfaction [1, 2, 3, 4]. In regards to this, kidney injury marker 1 (KIM-1) and neutrophil gelatinase-associated lipocalin (NGAL) have been proposed as novel biomarkers and can possibly be used in both risk assessment and prediction of acute as well as chronic kidney disease (CKD) to help achieve this goal [5, 6, 7, 8, 9, 10].
KIM-1 is a surface receptor protein in epithelial and lymphoid/myeloid cells, known also as HAVCR1 or TIM-1 [11], while NGAL is a circulating protein expressed in abundance in kidney tissue and in other tissues as well [12].
The level of NGAL in urine, blood or kidney has been proposed to specifically express active, ongoing damage to renal tubules, as described by Mori et Nakao in the "forest fire" theory [13] and has shown to be a specific marker of ongoing damage to nephrons in acute kidney injury [14].
Previous studies have demonstrated a positive correlation between KIM-1 levels and albuminuria, and KIM-1 has been determined as a possible, predictive factor of acute kidney injury and CKD [6, 7, 8]. For example, higher plasma KIM-1 has been independently correlated with risk of renal outcomes in patients with both early and late diabetic kidney disease (DKD) [15], evaluating the Action to Control Cardiovascular Risk in Diabetes [16] and The Veterans Affairs Nephropathy in Diabetes [17] cohorts.
Both higher urinary and serum levels of NGAL have been associated with risk of all-cause and cardiovascular mortality in a Swedish study including 597 non-diabetic men [18]. Elevated levels of u-NGAL and s-NGAL at baseline correlated significantly with higher incidence of cardiovascular and all-cause mortality; however s-NGAL lost significance after adjustment for risk factors. Moreover, a higher urinary level of NGAL has been associated with risk of CKD stage 3 [19] and risk of all-cause mortality in non-diabetic subjects [20]. Due to the inconclusiveness in existing literature, no satisfactory evidence has been provided on these biomarkers' role in the discovery of latent or future disease, or their general usefulness as potential risk markers.
We have previously demonstrated an association between higher level of urinary KIM-1 and NGAL and a larger a decline in eGFR in both type 1 and type 2 diabetes; however, due to a modest follow-up time, the association was lost after adjustment for known progression promoters [21, 22].
The aim of the present study was to further clarify the predictive value of urinary KIM-1 and NGAL for decline in renal function, incident cardiovascular disease and all-cause mortality in persons with T2D and persistent albuminuria, but with preserved kidney function and no known cardiac disease.
Results
Baseline characteristics
Of the 200 participants, 192 had baseline measurement of u-KIM-1 and u-NGAL. The median (IQR) of u-KIM-1 was 1.64 (0.53–3.4) pg/ml/g creatinine and of u-NGAL 101.4 (54.8–228.2) pg/ml/g creatinine. Baseline characteristics stratified according to the median of u-KIM-1 and u-NGAL, respectively, are shown in Table 1. Characteristics were generally comparable in low versus high levels of the markers; however, noteworthy was that participants with level of u-NGAL above the median had a higher HbA1c and were more frequently women. The level of UAER was also higher in participants with high levels of both u-KIM-1 and u-NGAL, whereas there was no difference in eGFR. The mean eGFR was 89 ± 17 ml/min/1.73 m2, and only eight participants had an eGFR below 60 ml/min/1.73 m2.
Table 1
Clinical characteristics of the study population at baseline categorized according to urinary kidney injury molecule 1 (u-KIM-1) and urinary neutrophil gelatinase-associated lipocalin (u-NGAL) below or above the median
 

u-KIM-1 (pg/ml/g creatinine)

u-NGAL (pg/ml/g creatinine)

< 1.64 (n = 96)

≥ 1.64 (n = 96)

p

< 101.4 (n = 96)

≥ 101.4 (n = 96)

p

Male, n (%)

78 (81)

67 (70)

0.06

86 (90)

59 (61)

< 0.001

Age (years)

58.2 ± 8.5

59.2 ± 9.1

0.44

59.0 ± 8.9

58.4 ± 8.7

0.63

Duration of diabetes (years)

11.9 ± 7.8

13.3 ± 7.1

0.22

12.6 ± 7.6

12.7 ± 7.3

0.92

Body mass index (kg/m2)

32.5 ± 5.2

32.7 ± 6.4

0.75

32.4 ± 5.7

32.8 ± 5.9

0.71

HbA1c (%)

7.86 ± 1.14

7.82 ± 1.52

0.84

7.60 ± 1.00

8.08 ± 1.57

0.014

HbA1c (mmol/mol)

62 ± 12.5

62 ± 16.6

0.84

60 ± 10.9

65 ± 17.2

0.014

UAER (mg/24-h)

71.0 (31.0–147.0)

149.6 (63.5–510.5)

< 0.001

69.0 (32.0–191.0)

128.0 (71.0–377.7)

0.001

P-creatinine (µmol/l)

76.6 ± 17.6

76.8 ± 19.4

0.93

78.8 ± 15.6

74.6 ± 20.9

0.12

eGFR (ml/min/1.73 m2)

90.5 ± 17.2

88.0 ± 18.1

0.32

89.1 ± 16.5

89.4 ± 18.7

0.88

LDL cholesterol (mmol/l)

1.89 ± 0.80

1.82 ± 0.78

0.55

1.84 ± 0.75

1.86 ± 0.82

0.85

Systolic blood pressure (mmHg)

130 ± 17

130 ± 16

0.99

130 ± 16

129 ± 16

0.78

Current smoker, n (%)

31 (32)

25 (26)

0.64

27 (28)

29 (30)

0.75

Oral antidiabetic use, n (%)

80 (83)

83 (86)

0.55

82 (85)

81 (84)

0.84

Insulin use, n (%)

64 (67)

55 (57)

0.18

64 (67)

55 (57)

0.18

Antihypertensive drug use, n (%)

95 (99)

96 (100)

0.32

96 (100)

95 (99)

0.32

RAASi use, n (%)

95 (99)

94 (98)

0.56

96 (100)

93 (97)

0.08

Statin use, n (%)

90 (94)

92 (96)

0.52

91 (95)

91 (95)

1.00

Aspirin use, n (%)

87 (91)

89 (93)

0.60

88 (92)

88 (92)

1.00
The vast majority of patients were treated with oral antidiabetic treatment, antihypertensive drugs (98% with a renin–angiotensin–aldosterone system inhibitor), statins and aspirin, while slightly more than half received insulin treatment.
The positive, but weak correlation between u-KIM-1 and u-NGAL is illustrated in Fig. 1 (R2 = 0.12; p < 0.0001).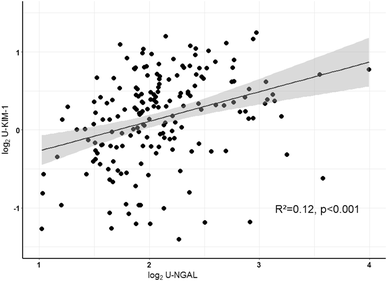 u-KIM-1 and u-NGAL in continuous analyses
Table 2 demonstrates the HR of u-KIM-1 and u-NGAL for decline in eGFR, CVE and all-cause mortality, respectively. Higher u-KIM-1 was a strong predictor of all-cause mortality even after adjustment for traditional risk factors (HR 2.26; p = 0.008), and also showed significance for predicting decline in eGFR (HR 1.68; p = 0.034) and CVE (HR 1.52; p = 0.049). u-NGAL showed no significance in the continuous models after adjustment, however, higher level was associated with higher risk of decline in eGFR in the unadjusted model (HR 1.41; p = 0.013).
Table 2
Cox regression analyses: urinary biomarkers in relation to risk of fatal and nonfatal cardiovascular events, all-cause mortality and decline in eGFR > 30% in 192 patients, number of events given for each endpoint
 

Model

Decline in eGFR > 30% (n = 39)

p

Cardiovascular events (n = 39)

p

All-cause mortality (n = 24)

p

u-KIM-1

Unadjusted

1.86 (1.24–2.80)

0.003

1.44 (1.01–2.05)

0.043

1.95 (1.19–3.20)

0.008

Adjusted

1.68 (1.04–2.71)

0.034

1.52 (1.00–2.31)

0.049

2.26 (1.24–4.15)

0.038

Adjusted + u-NGAL

1.62 (1.00–2.63)

0.050

1.53 (1.00–2.34)

0.053

2.24 (1.19–4.20)

0.012

rIDI (%)

 

27.9

0.09

8.94

0.21

63.1

< 0.001

u-NGAL

Unadjusted

1.41 (1.08–1.86)

0.013

1.04 (0.77–1.41)

0.79

1.10 (0.75–1.62)

0.63

Adjusted

1.29 (0.89–1.86)

0.17

1.07 (0.73–1.55)

0.74

1.18 (0.74–1.91)

0.49

Adjusted + u-KIM-1

1.19 (0.80–1.77)

0.39

0.99 (0.66–1.48)

0.95

1.04 (0.59–1.83)

0.90
After inclusion of both biomarkers in the adjusted model, only higher u-KIM-1 remained significantly associated with all-cause mortality (HR 2.24; p = 0.012), but not with renal decline or CVE.
We calculated ROC-curves and AUC for all endpoints in relation to u-KIM-1 compared to the adjusted model without u-KIM-1, which in turn, were all non-significant (eGFR decline: p = 0.48; CVE: p = 0.41; all-cause mortality: p = 0.46). However, rIDI analysis shows a significant discrimination slope contribution of 63.1% (p = 0.007) in predicting all-cause mortality, whilst the contribution to eGFR decline (27.9%) and CVE (8.94%) prediction was not significant (p = 0.09 and p = 0.21, respectively).
u-KIM-1 and u-NGAL analyzed according to the median
As can be seen in Fig. 2, Kaplan–Meier function plots for u-KIM-1 divided according to the median showed a significant higher risk for decline in eGFR (p = 0.004) and CVE (p = 0.015) at levels above the median, however no association for all-cause mortality was found (p = 0.059). Similar plots for u-NGAL (not pictured) were significant for decline in eGFR (p = 0.019), but not for CVE or all-cause mortality (p ≥ 0.16). After adjustment for the previously described risk factors in a Cox regression model, u-KIM-1 above the median remained associated with risk of CVE [HR (95% CI) 2.62 (1.25–5.53); p = 0.011], while there was no association for decline in eGFR (p = 0.059) or all-cause mortality (p = 0.11). The association between elevated NGAL and decline in eGFR was also lost (p = 0.070).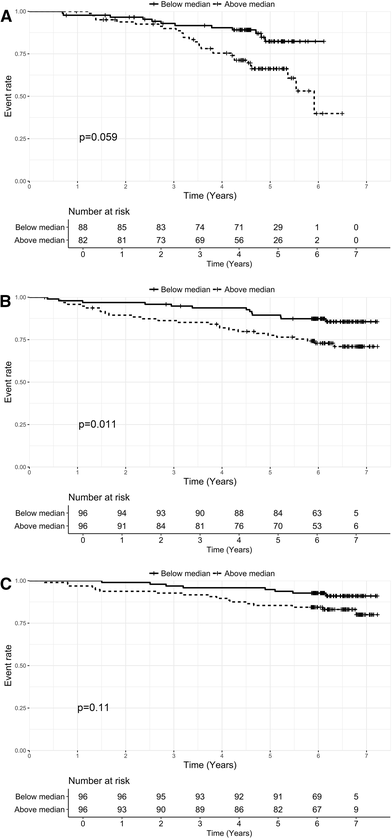 Discussion
The present study serves to investigate the predictive qualities of the biomarkers KIM-1 and NGAL measured in urine. In our cohort of 192 T2D patients with persistent microalbuminuria, higher u-KIM-1 seems to be an independent predictor of all-cause mortality, as well as a promising marker of eGFR decline and CVE, while u-NGAL failed to show significance for any of the endpoints after adjustment. Regarding the possible clinical use of u-KIM-1 these results are promising, while the results concerning u-NGAL seems to confirm u-NGAL being a weaker marker pertaining long term prediction of progression of DKD, CVE and mortality [27, 28]. A combination of the two markers was not helpful in predicting the endpoints. Put in relation to our previous study on the same cohort [21] where we failed to show significance for yearly kidney function decline after adjustment, we now have a much stronger foundation to build on with a longer follow-up and more robust endpoints.
The current approach for the stratification of risk for DKD, cardiovascular disease and mortality is based on a variety of factors in the diabetic patient [2, 4, 29, 30, 31]. In urine specifically, albuminuria is the primary measure to assess microvascular dysfunction in the glomeruli and the general vasculature, and when combined with eGFR these markers are used to determine DKD, as well as playing a part in identifying the risk of other diabetic complications [4, 31].
The biomarkers analyzed in our study both reflect damage to the proximal tubular cells in the kidneys as opposed to albuminuria which is considered a marker of glomerular damage. It has been shown that the biomarkers are expressed specifically in damaged tissue, and are mostly non-present in healthy kidneys [5, 32]; and when present they can be measured in urine as well as in circulation [10]. Additionally, they are considered specific markers of active damage to tubuli [13, 33] and therefore the possible predictive effect derived from damaged tissue releasing these markers, may materialize ahead of any kidney function decline measured using conventional methods. This theory leads to the question of urinary versus circulatory quantification of the biomarkers and it has been hypothesized [34], but not confirmed, that measurement in urine is more representative of acute production in the tubuli, while, when measured in circulation, it rather supports the idea of a more systematic, microvascular syndrome facilitating leakage from the kidney.
Noteworthy, there was a higher ratio of females in the group with value above the median level for both biomarkers, albeit a non-significant difference for u-KIM-1. This is interesting considering the discrepancy of CKD and ESRD exhibited between males and females in the general population, where males generally have a higher rate of renal function deterioration than females [35]. Sex related differences of these biomarkers have been evaluated before, where u-NGAL, but not u-KIM-1, showed statistically significant sex effect after adjustment for urinary creatinine [36].
KIM-1
As described above, analysis with Kaplan–Meier functions based on the median level of u-KIM-1 exhibit significance, after adjustment, only for CVE. However, our continuous data clearly show that higher u-KIM-1 is a predictor of eGFR decline and CVE, in addition to all-cause mortality. Furthermore, rIDI calculations demonstrated a significant added value of u-KIM-1 to existing parameters for the prediction of all-cause mortality, which further strengthens the possible usefulness of KIM-1. Searching the literature, u-KIM-1 has been proposed as a predictor of various complications in patients with diabetes [20, 37], but its efficiency is still under scrutiny. Studies have suggested several different points of usage, without yet conclusively determining its role in the general setting. There are implications of it being a robust marker of future decline in eGFR [21, 34]; but not necessarily an independent risk factor [38], and other studies have demonstrated a role in the prediction of CVE [20, 39] and mortality [20, 40, 41, 42] as well. Furthermore, it has been shown to be modifiable by inhibition of the renin–angiotensin–aldosterone system, in both humans [43] and mice [44, 45], but not with empagliflozine [46]. There are, however, great variances in the selection of subjects in the studies, as well as difference in the interpretation of the biomarker. Our results shed some clarity on the role KIM-1 could have if applied in a clinical setting, as we can establish a clear correlation between higher u-KIM-1 and the respective endpoints. However, there is need for further studies, especially regarding its modifiability in relation to existing antihypertensive and antidiabetic treatment, if KIM-1 is to become an effective and useful biomarker in a clinical setting.
NGAL
Concerning NGAL, higher levels have also shown promising associations with impaired kidney function in vivo and in vitro [13, 14], mainly focusing on acute kidney injury. Recently, it has also been proposed as a predictor of CKD [47], as well as DKD and CVE in patients with T2D [48]. Our data do not support u-NGAL as a reliable risk marker for decline in eGFR, CVE or mortality. The reason could be that we included patients with persistent microalbuminuria but preserved renal function at baseline. This fact may well be a significant factor to take into account when using u-NGAL for risk stratification, as it is a marker of active, ongoing damage to the proximal tubuli in the kidney [32] and as such may not be present in the same magnitude in patients with established kidney disease, receiving ongoing treatment. Furthermore, compared to u-KIM-1, the level of u-NGAL has not been shown to predict chronic diseases or long term events convincingly, as positive results in the literature are more prominent in the prediction of acute kidney injury [7].
Limitations
There are relevant limitations to this study which should be taken into account. A relatively small sample size of patients from a single center limits both the number of events recorded and the generalization of the results. Moreover, all of our patients were diagnosed with DKD (microalbuminuria) and this may, as discussed above, influence the predictive strength of the markers, and further diminish generalization. Lastly, as we have not distinguished the anti-diabetic treatment of the patients, some drugs can influence our results; such as glucagon-like peptide 1 receptor analogues or dipeptidyl peptidase-4 inhibitors that have a known effect on the kidney [49]. Sodium-glucose co-transporter-2 inhibitors, which have a potent effect on urinary biomarkers [50], were not on the market when initiating this cohort.
Conclusion
This study of patients with T2D and persistent microalbuminuria demonstrates that higher level of u-KIM-1, but not of NGAL, is an independent risk factor for decline in renal function, cardiovascular events and all-cause mortality, and contributes significant discrimination, beyond traditional risk factors, for the risk of all-cause mortality.
Notes
Acknowledgements
We thank all participants and acknowledge the work of study nurse Lone Jelstrup and lab technicians Anne G. Lundgaard, Berit R. Jensen, Tina R. Juhl, and Jessie A. Hermann, employees at Steno Diabetes Center, Copenhagen.
Author contributions
VRC, TWH, MKE, BJvS, HR, PJ, FP, H-HP, and PR conceived and designed the research; VRC, TWH, MKE, BJvS, FP and PR analyzed and interpreted the data; TWH performed the statistical analysis; VRC, wrote the manuscript; TWH, MKE, BJvS, HR, PJ, FP, H-HP, and PR critically revised the manuscript for key intellectual content; PR obtained funding and supervised the study. All authors approved the final version of the manuscript. VRC is responsible for the integrity of the work as a whole.
Funding
European Foundation for the Study of Diabetes (EFSD), clinical research grant in Type 2 Diabetes. Internal funding was provided by Steno Diabetes Center Copenhagen, Gentofte, Denmark.
Compliance with ethical standards
Conflict of interest
F. P. reports having received research Grants from Astra Zeneca, lecture fees from Astra Zeneca, MSD, Janssen, Lily, Boehringer Ingelheim, Novo Nordisk, Novartis and being consultant/advisory board member for Astra Zeneca, Bayer, Amgen and MSD. P. R. received lecture fees from Bayer and Boehringer Ingelheim, and research Grant from Novartis, Astra Zeneca, Novo Nordisk and has served as a consultant for Bayer, Astra Zeneca, Astellas, Boehringer Ingelheim, AbbVie, Novo Nordisk (all honoraria to his institution) and having equity interest in Novo Nordisk. The results presented in this paper have not been published previously in whole or part, except in abstract format.
Statement on human rights
All procedures have been in accordance to ethical standards and ethical law, were applied, including the 1964 Declaration of Helsinki and the guidelines for Good Clinical Practice.
Informed consent
All subjects in the study gave their informed and signed consent prior to inclusion.
Copyright information
© Springer-Verlag Italia S.r.l., part of Springer Nature 2018