Abstract
Background
This prospective study aimed to clarify whether this novel device can evaluate the cup orientation during total hip arthroplasty (THA) more closely to that measured in postoperative computed tomography (CT) compared to the surgeon's estimate using a manual goniometer.
Methods
We prospectively performed 30 cementless THAs via the anterolateral approach in supine position between October 2018 and July 2019, wherein cup orientation was evaluated by both a portable imageless navigation system (HipAlign) and a manual goniometer during surgeries. Primary outcome was the absolute estimate error [the absolute value of the difference between cup angles measured by postoperative CT and those measured by HipAlign (group H) or surgeon's estimate using the manual goniometer (group S) during surgery]. The number of outliers of the absolute estimate error (> 10°) in each group was also estimated.
Results
The absolute estimate error of cup inclination in groups H and S was 3.3° ± 2.7° and 3.0° ± 2.5°, respectively (p = 0.51), whereas that of cup anteversion was 3.8° ± 3.4° and 6.0° ± 3.7°, respectively (p = 0.0008). The number of outliers of the estimate error in groups H and S was one case (3.3%) and six cases (20.0%), respectively (p = 0.04). In all six outlier cases, surgeons underestimated cup anteversion during surgeries.
Conclusions
This portable imageless navigation system was a useful method, especially for avoiding incorrect cup anteversion. Underestimation of cup anteversion during THA in the supine position with the conventional alignment assisting device should be given attention.
This is a preview of subscription content, log in to check access.
Access options
Buy single article
Instant unlimited access to the full article PDF.
US$ 39.95
Price includes VAT for USA
Subscribe to journal
Immediate online access to all issues from 2019. Subscription will auto renew annually.
US$ 99
This is the net price. Taxes to be calculated in checkout.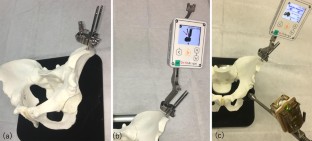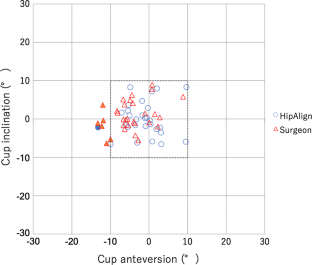 Ethics declarations
Conflict of interest
Dr. Takada reports personal fees from Stryker, Medtronic Sofamor Danek, and HOYA, outside the submitted work. Dr. Jinno reports grants and personal fees from Stryker and personal fees from Zimmer Biomet and Depuy Synthes, outside the submitted work. Dr. Miyatake, Dr. Hirao, Dr. Yoshii, and Dr. Okawa declare that they have no conflict of interest.
Additional information
Publisher's Note
Springer Nature remains neutral with regard to jurisdictional claims in published maps and institutional affiliations.
About this article
Cite this article
Takada, R., Jinno, T., Miyatake, K. et al. Portable imageless navigation system and surgeon's estimate for accurate evaluation of acetabular cup orientation during total hip arthroplasty in supine position. Eur J Orthop Surg Traumatol (2020). https://doi.org/10.1007/s00590-020-02625-2
Received:

Accepted:

Published:
Keywords
Acetabular cup orientation

Total hip arthroplasty

Portable imageless navigation system

Range of motion