Abstract
Introduction
The treatment of long-bone osteomyelitis has long been a difficult problem. Recently, antibiotic-impregnated intramedullary rods for the treatment of infected long-bone fractures have been gaining popularity but they are quite difficult to fabricate. Recently, a new technique that utilizes mineral oil to coat the inside of a chest tube mold prior to introduction of cement has been proven to ease fabrication. We hypothesized that the use of mineral oil would alter the elution characteristics of tobramycin from the intramedullary device.
Methods
Two groups of antibiotic nails were fabricated under sterile conditions. The control group utilized a chest tube mold. The study group utilized a chest tube that was coated with mineral oil prior to cement injection. Each intramedullary nail was placed in pooled human serum and incubated under physiologic conditions. The level of tobramycin in each sample was measured at timepoints 0, 1, 6, and 24 h.
Results
There was no significant difference when comparing control with the experimental group at any timepoint. Antibiotic nails eluted tobramycin at a rapid rate in the first 6 h of exposure to serum, regardless of their preparation with oil or without oil. The rate of elution fell precipitously between 6 and 24 h.
Conclusion
We believe that although this study, as with any study, cannot perfectly recreate in vivo conditions, we have clearly shown that mineral oil has no significant effect on elution of tobramycin from antibiotic nails.
This is a preview of subscription content, log in to check access.
We're sorry, something doesn't seem to be working properly.
Please try refreshing the page. If that doesn't work, please contact support so we can address the problem.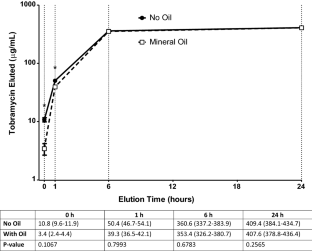 References
1.

Klaus Klemm SH, Seligson D (1988) The treatment of infection after interlocking nailing. Tech Orthop 3:54–61

2.

Wasko MK, Borens O (2013) Antibiotic cement nail for the treatment of posttraumatic intramedullary infections of the tibia: midterm results in 10 cases. Injury 44(8):1057–1060. https://doi.org/10.1016/j.injury.2013.05.001

3.

Thonse R, Conway J (2007) Antibiotic cement-coated interlocking nail for the treatment of infected nonunions and segmental bone defects. J Orthop Trauma 21(4):258–268. https://doi.org/10.1097/BOT.0b013e31803ea9e6

4.

Shyam AK, Sancheti PK, Patel SK, Rocha S, Pradhan C, Patil A (2009) Use of antibiotic cement-impregnated intramedullary nail in treatment of infected non-union of long bones. Indian J Orthop 43(4):396–402. https://doi.org/10.4103/0019-5413.55468

5.

Mauffrey C, Butler N, Hake ME (2016) Fabrication of an interlocked antibiotic/cement-coated carbon fiber nail for the treatment of long bone osteomyelitis. J Orthop Trauma 30(Suppl 2):S23–24. https://doi.org/10.1097/bot.0000000000000587

6.

Qiang Z, Jun PZ, Jie XJ, Hang L, Bing LJ, Cai LF (2007) Use of antibiotic cement rod to treat intramedullary infection after nailing: preliminary study in 19 patients. Arch Orthop Trauma Surgery 127(10):945–951. https://doi.org/10.1007/s00402-007-0315-x

7.

Kim JW, Cuellar DO, Hao J, Seligson D, Mauffrey C (2014) Custom-made antibiotic cement nails: a comparative study of different fabrication techniques. Injury 45(8):1179–1184. https://doi.org/10.1016/j.injury.2014.03.006

8.

Madanagopal SG, Seligson D, Roberts CS (2004) The antibiotic cement nail for infection after tibial nailing. Orthopedics 27(7):709–712

9.

Bhadra AK, Roberts CS (2009) Indications for antibiotic cement nails. J Orthop Trauma 23(5 Suppl):S26–S30. https://doi.org/10.1097/BOT.0b013e31819f27aa

10.

Kent M, Rachha R, Sood M (2010) A technique for the fabrication of a reinforced moulded articulating cement spacer in two-stage revision total hip arthroplasty. Int Orthop 34(7):949–953. https://doi.org/10.1007/s00264-009-0847-5
Acknowledgements
This project was made possible with funding from the Fischer-Owen Resident Research Fund at the Department of Orthopaedic Surgery, University of Louisville.
Ethics declarations
Conflict of interest
All authors declare that they have no conflicts of interest.
Additional information
Publisher's Note
Springer Nature remains neutral with regard to jurisdictional claims in published maps and institutional affiliations.
About this article
Cite this article
Lindner, J.R., Seligson, D., Chisena, E. et al. Does an antibiotic nail made in a lubricated tube release antibiotic?. Eur J Orthop Surg Traumatol 30, 153–156 (2020). https://doi.org/10.1007/s00590-019-02533-0
Received:

Accepted:

Published:

Issue Date:
Keywords
Antibiotic intramedullary nail

Osteomyelitis

Long bone infection

Open fracture

Long bone osteomyelitis