Abstract
Purpose
To report and discuss a rare case of septic arthritis of a lumbar facet joint presenting as septic bacterial peritonitis and requiring surgical debridement.
Methods
A 55-year-old man, with a history of intravenous drug usage and hepatitis C, presented to the emergency department with fever, abdominal and lumbar pain. Examination showed ascites. Erythrocyte sedimentation rate and C-reactive protein were elevated. A paracentesis was performed, and a diagnosis of spontaneous bacterial peritonitis was assumed as acute on chronic liver failure. The patient was admitted for antibiotic treatment with cefotaxime. Staphylococcus aureus was isolated in blood cultures. Despite directed treatment, there were persistent fever, back pain and continuous elevation of serum inflammatory markers. An MRI of the lumbar spine was performed 14 days after presentation and identified septic arthritis of the left L4–L5 facet joint. In the absence of a response to the medical treatment, surgical debridement of the facet joint was performed. After surgery, back pain resolved and inflammatory markers started to decline. One year after surgery, the patient is asymptomatic and has normalization of the inflammatory markers of infection. Follow-up MRI shows complete resolution of the infection.
Conclusions
Septic arthritis of the lumbar facet joints is a rare condition with no more than 50 cases reported in the literature. This infection, which can cause significant morbidity, can result from local or systemic inoculation. MRI is the diagnostic method of choice. While antibiotic therapy is the first line of treatment, when it fails, surgical debridement may be necessary.
This is a preview of subscription content, log in to check access.
Access options
Buy single article
Instant unlimited access to the full article PDF.
US$ 39.95
Price includes VAT for USA
Subscribe to journal
Immediate online access to all issues from 2019. Subscription will auto renew annually.
US$ 99
This is the net price. Taxes to be calculated in checkout.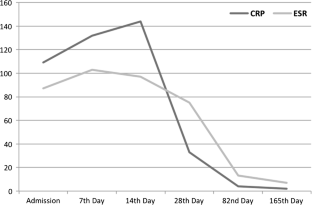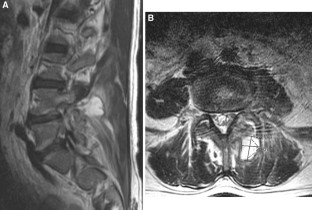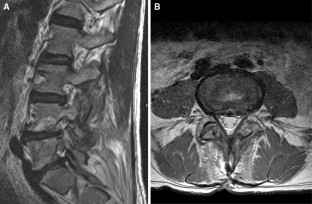 References
1.

Halpin DS, Gibson RD (1987) Septic arthritis of a lumbar facet joint. J Bone Jt Surg Br 69(3):457–459

2.

Mas-Atance J, Gil-Garcia MI, Jover-Saenz A, Curia-Jove E, Jove-Talavera R, Charlez-Marco A, Ibars-Valverde Z, Fernandez-Martinez JJ (2009) Septic arthritis of a posterior lumbar facet joint in an infant: a case report. Spine (Phila Pa 1976) 34(13):E465–E468. https://doi.org/10.1097/brs.0b013e3181a4e64b

3.

Coscia MF, Trammell TR (2002) Pyogenic lumbar facet joint arthritis with intradural extension: a case report. J Spinal Disord Tech 15(6):526–528

4.

Rombauts PA, Linden PM, Buyse AJ, Snoecx MP, Lysens RJ, Gryspeerdt SS (2000) Septic arthritis of a lumbar facet joint caused by Staphylococcus aureus. Spine (Phila Pa 1976) 25(13):1736–1738

5.

Muffoletto AJ, Ketonen LM, Mader JT, Crow WN, Hadjipavlou AG (2001) Hematogenous pyogenic facet joint infection. Spine (Phila Pa 1976) 26(14):1570–1576

6.

Daivajna S, Jones A, O'Malley M, Mehdian H (2004) Unilateral septic arthritis of a lumbar facet joint secondary to acupuncture treatment—a case report. Acupunct Med 22(3):152–155

7.

Nishimura Y, Ishida H, Shin N, Mori K, Yoshihara T, Kasubuchi Y, Kin Y, Tamai K (2004) Streptococcus pneumoniae-associated arthritis of a lumbar facet joint in a 4-year-old boy. Pediatr Int 46(1):101–103. https://doi.org/10.1111/j.1328-0867.2004.01833.x

8.

Ogura T, Mikami Y, Hase H, Mori M, Hayashida T, Kubo T (2005) Septic arthritis of a lumbar facet joint associated with epidural and paraspinal abscess. Orthopedics 28(2):173–175

9.

Orpen NM, Birch NC (2003) Delayed presentation of septic arthritis of a lumbar facet joint after diagnostic facet joint injection. J Spinal Disord Tech 16(3):285–287

10.

Rajeev A, Choudhry N, Shaikh M, Newby M (2016) Lumbar facet joint septic arthritis presenting atypically as acute abdomen—a case report and review of the literature. Int J Surg Case Rep 25:243–245. https://doi.org/10.1016/j.ijscr.2016.07.001

11.

Calderone RR, Larsen JM (1996) Overview and classification of spinal infections. Orthop Clin N Am 27(1):1–8

12.

Ergan M, Macro M, Benhamou CL, Vandermarcq P, Colin T, L'Hirondel JL, Marcelli C (1997) Septic arthritis of lumbar facet joints. A review of six cases. Rev Rhum Engl Ed 64(6):386–395
Ethics declarations
Conflict of interest
No authors declare they have no conflicts of interest.
Additional information
Publisher's Note
Springer Nature remains neutral with regard to jurisdictional claims in published maps and institutional affiliations.
About this article
Cite this article
Lopes Correia, B., Diniz, S.E., Lopes da Silva, E. et al. Septic arthritis of the lumbar facet joint presenting as spontaneous bacterial peritonitis: a rare case requiring surgical intervention. Eur J Orthop Surg Traumatol 30, 175–178 (2020) doi:10.1007/s00590-019-02527-y
Received:

Accepted:

Published:

Issue Date:
Keywords
Septic arthritis

Lumbar facet joint

Back pain

Paraspinal abscess