Abstract
Purpose
To retrospectively analyze the entire cohort of patients in the Republic of Slovenia diagnosed with bone sarcomas in the long bones or pelvis/sacrum/coccyx from January 1, 2009, to December 31, 2018, with an observational nationwide study, whereby all patients were evaluated by one single tumor board in the country. We evaluated surgical outcomes and tested whether survival of bone sarcoma patients depended on age, gender, histological diagnosis.
Materials and methods
Cancer Registry of the Republic of Slovenia was screened for all ICD-10 diagnoses from C40.0 to C40.9 and C41.4 in the designated time frame, and the patients were then clinically followed up until the end of the observation period on June 1, 2019.
Results
The cohort of 160 patients was treated surgically in 141 cases, 29 patients required subsequent revision(s) and cumulative endoprosthetic infection rate was 12.5%. In the follow-up, 54 patients died and the 2 patients were missing. Cumulative proportion of survival at 5/10 years was 61%/54%, respectively. After adjustment for age, gender and diagnosis, higher age (odds ratio 1.06 for each additional year), osteosarcoma (odds ratio 4.07) and Ewing sarcoma (odds ratio 11.68) were the significant risk factors of shorter oncological survival.
Conclusion
This is the first Slovenian nationwide cohort study of bone sarcoma patients, unique in its circumscribed geographic area and evaluation/treatment at a single center by a single tumor board. Although comparable to other countries, results show a grim picture and the lack of improvement in bone sarcoma survival within the last 20 years.
This is a preview of subscription content, log in to check access.
Access options
Buy single article
Instant unlimited access to the full article PDF.
US$ 39.95
Price includes VAT for USA
Subscribe to journal
Immediate online access to all issues from 2019. Subscription will auto renew annually.
US$ 99
This is the net price. Taxes to be calculated in checkout.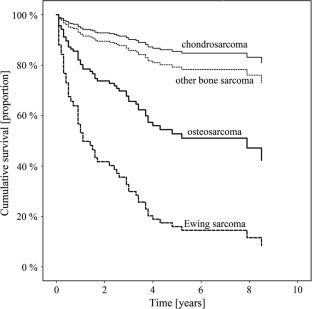 References
1.

Bertrand TE, Cruz A, Binitie O, Cheong D, Letson GD (2016) Do surgical margins affect local recurrence and survival in extremity, nonmetastatic, high-grade osteosarcoma? Clin Orthop Relat Res 474(3):677–683

2.

Jeys LM, Thorne CJ, Parry M, Gaston CL, Sumathi VP, Grimer JR (2017) A novel system for the surgical staging of primary high-grade osteosarcoma: the Birmingham classification. Clin Orthop Relat Res 475(3):842–850

3.

Stevenson JD, Laitinen MK, Parry MC, Sumathi V, Grimer RJ, Jeys LM (2018) The role of surgical margins in chondrosarcoma. Eur J Surg Oncol 44(9):1412–1418

4.

Balmant NV, Reis RS, Santos MO, Maschietto M, Camargo B (2019) Incidence and mortality of bone cancer among children, adolescents and young adults of Brazil. Clinics (Sao Paulo) 74:e858

5.

Tsuda Y, Ogura K, Shinoda Y, Kobayashi H, Tanaka S, Kawai A (2018) The outcomes and prognostic factors in patients with osteosarcoma according to age: a Japanese nationwide study with focusing on the age differences. BMC Cancer 18(1):614

6.

Goedhart LM, Ho VKY, Dijkstra PDS, Schreuder HWB, Schaap GR, Ploegmakers JJW, van der Geest ICM, van de Sande MAJ, Bramer JA, Suurmeijer AJH, Jutte PC (2019) Bone sarcoma incidence in the Netherlands. Cancer Epidemiol 60:31–38

7.

Website on cancer information in Slovenia and other countries. http://www.slora.si/en/. Accessed 1 July 2019

8.

The Official Gazette of the Republic of Slovenia, No. 0/50, 29/50, 14/65, 1/80, 45/82, 42/85, 9/92, 65/00, 47/15 and 31/18. https://www.uradni-list.si/. Accessed 1 July 2019

9.

Kontogeorgakos VA, Eward WC, Brigman BE (2019) Microsurgery in musculoskeletal oncology. Eur J Orthop Surg Traumatol 29(2):271–278

10.

Errani C, Ceruso M, Donati DM, Manfrini M (2019) Microsurgical reconstruction with vascularized fibula and massive bone allograft for bone tumors. Eur J Orthop Surg Traumatol 29(2):307–311

11.

Panagopoulos GN, Mavrogenis AF, Mauffrey C, Lesenský J, Angelini A, Megaloikonomos PD, Igoumenou VG, Papanastassiou J, Savvidou O, Ruggieri P, Papagelopoulos PJ (2017) Intercalary reconstructions after bone tumor resections: a review of treatments. Eur J Orthop Surg Traumatol 27(6):737–746

12.

Lesenský J, Mavrogenis AF, Igoumenou VG, Matejovsky Z Jr, Nemec K, Papagelopoulos PJ, Fabbri N (2017) Complex surgery for locally advanced bone and soft tissue sarcomas of the shoulder girdle. Eur J Orthop Surg Traumatol 27(6):777–786

13.

Berner K, Johannesen TB, Berner A, Haugland HK, Bjerkehagen B, Bøhler PJ, Bruland ØS (2015) Time-trends on incidence and survival in a nationwide and unselected cohort of patients with skeletal osteosarcoma. Acta Oncol 54(1):25–33

14.

Sampo M, Koivikko M, Taskinen M, Kallio P, Kivioja A, Tarkkanen M, Böhling T (2011) Incidence, epidemiology and treatment results of osteosarcoma in Finland—a nationwide population-based study. Acta Oncol 50(8):1206–1214

15.

National Cancer Institute—Surveillance, Epidemiology, and End Results Program (SEER). http://seer.cancer.gov/statfacts/html/bones.html. Accessed 1 July 2019

16.

Bongers MER, Thio QCBS, Karhade AV, Stor ML, Raskin KA, Lozano Calderon SA, DeLaney TF, Ferrone ML, Schwab JH (2019) Does the SORG algorithm predict 5-year survival in patients with chondrosarcoma? An external validation. Clin Orthop Relat Res 1:11. https://doi.org/10.1097/corr.0000000000000748[Epub ahead of print]

17.

Wan ZH, Huang ZH, Chen LB (2017) Survival outcome among patients with Ewing's sarcoma of bones and joints: a population-based cohort study. Sao Paulo Med J 136(2):116–122

18.

Cancer Research UK. https://www.cancerresearchuk.org. Accessed 1 July 2019

19.

Kaatsch P, Strothotte J, Becker C, Bielack S, Dirksen U, Blettner M (2016) Pediatric bone tumors in Germany from 1987 to 2011: incidence rates, time trends and survival. Acta Oncol 55(9–10):1145–1151

20.

Serlo J, Tarkkanen M, Sampo M, Vettenranta K, Riikonen P, Helenius I (2015) Incidence, treatment and survival of paediatric patients with bone sarcomas in Finland from 1991 to 2005. Acta Paediatr 104(7):738–745

21.

Racano A, Pazionis T, Farrokhyar F, Deheshi B, Ghert M (2013) High infection rate outcomes in long-bone tumor surgery with endoprosthetic reconstruction in adults: a systematic review. Clin Orthop Relat Res 471(6):2017–2027

22.

Schmidt-Braekling T, Streitbuerger A, Gosheger G, Boettner F, Nottrott M, Ahrens H, Dieckmann R, Guder W, Andreou D, Hauschild G, Moellenbeck B, Waldstein W, Hardes J (2017) Silver-coated megaprostheses: review of the literature. Eur J Orthop Surg Traumatol 27(4):483–489

23.

Streitbuerger A, Henrichs MP, Hauschild G, Nottrott M, Guder W, Hardes J (2019) Silver-coated megaprostheses in the proximal femur in patients with sarcoma. Eur J Orthop Surg Traumatol 29(1):79–85

24.

Medellin MR, Fujiwara T, Clark R, Stevenson JD, Parry M, Jeys L (2019) Mechanisms of failure and survival of total femoral endoprosthetic replacements. Bone Joint J 101-B(5):522–528

25.

Cirstoiu C, Cretu B, Serban B, Panti Z, Nica M (2019) Current review of surgical management options for extremity bone sarcomas. EFORT Open Rev 4(5):174–182

26.

Reddy KI, Wafa H, Gaston CL, Grimer RJ, Abudu AT, Jeys LM, Carter SR, Tillman RM (2015) Does amputation offer any survival benefit over limb salvage in osteosarcoma patients with poor chemonecrosis and close margins? Bone Jt J 97-B(1):115–120

27.

Erstad DJ, Ready J, Abraham J, Ferrone ML, Bertagnolli MM, Baldini EH, Raut CP (2018) Amputation for extremity sarcoma: contemporary indications and outcomes. Ann Surg Oncol 25(2):394–403

28.

He F, Zhang W, Shen Y, Yu P, Bao Q, Wen J, Hu C, Qiu S (2016) Effects of resection margins on local recurrence of osteosarcoma in extremity and pelvis: systematic review and meta-analysis. Int J Surg 36(Pt A):283–292
Ethics declarations
Conflict of interest
The authors declare no conflict of interest with respect to this study.
Additional information
Publisher's Note
Springer Nature remains neutral with regard to jurisdictional claims in published maps and institutional affiliations.
About this article
Cite this article
Mavčič, B., Špiler, M. & Martinčič, D. Oncological and endoprosthetic outcomes of bone sarcoma patients: a nationwide cohort study. Eur J Orthop Surg Traumatol 30, 31–35 (2020). https://doi.org/10.1007/s00590-019-02503-6
Received:

Accepted:

Published:

Issue Date:
Keywords
Bone sarcoma

Survival

Tumor endoprosthesis