Abstract
Background
Distal radius giant cell tumour (GCT) is known to be associated with distinct management difficulties, including high rates of local recurrence and lung metastases compared to other anatomic locations. Multiple treatment options exist, each with different outcomes and complications.
Questions/purposes
To compare oncological and functional outcomes and complications following treatment of patients with distal radius GCT by extended intralesional curettage (EIC) or resection–arthrodesis.
Methods
Patients operated on for distal radius GCT were identified from prospectively collected databases at four Canadian musculoskeletal oncology specialty centres. There were 57 patients with a mean age of 35.4 years (range 17–57). Thirteen tumours were Campanacci grade 2, and 40 were Grade 3 (4 unknown). Twenty patients presented with an associated pathologic fracture. There were 34 patients treated by EIC and 23 by en bloc resection and wrist arthrodesis. All resections were performed for grade 3 tumours. The mean follow-up was 86 months (range 1–280).
Results
There were a total of 11 (19%) local recurrences: 10 of 34 (29%) in the EIC group compared to only 1 of 23 (4%) in the resection–arthrodesis group (p = 0.028). For the 10 patients with local recurrence following initial treatment by EIC, 7 underwent repeat EIC, while 3 required resection–arthrodesis. The one local recurrence following initial resection was managed with repeat resection–arthrodesis. Six of the 11 local recurrences followed treatment of Campanacci grade 3 tumours, while 4 were in grade 2 lesions and in one case of recurrence the grade was unknown. There were no post-operative complications after EIC, whereas 7 patients (30%) had post-operative complications following resection–arthrodesis including 4 infections, one malunion, one non-union and one fracture (p = 0.001). The mean post-operative Musculoskeletal Tumor Society score was 33.5 in the curettage group compared to 27 in the resection group (p = 0.001). The mean Toronto Extremity Salvage Score was 98.3% following curettage compared to 91.5% after resection (p = 0.006). No patients experienced lung metastasis or death.
Conclusions
EIC is an effective alternative to wide resection–arthrodesis following treatment of distal radius GCT, with the advantage of preserving the distal radius and wrist joint function, but with a higher risk of local recurrence. Most local recurrences following initial treatment by EIC could be managed with iterative curettage and joint preservation. Wide excision and arthrodesis were associated with a significantly lower risk of tumour recurrence but was technically challenging and associated with more frequent post-operative complications. EIC was associated with better functional scores. Resection should be reserved for the most severe grade 3 tumours and recurrent and complex cases not amenable to treatment with EIC and joint salvage.
Level of evidence
III, retrospective comparative trial.
This is a preview of subscription content, log in to check access.
Access options
Buy single article
Instant unlimited access to the full article PDF.
US$ 39.95
Price includes VAT for USA
Subscribe to journal
Immediate online access to all issues from 2019. Subscription will auto renew annually.
US$ 99
This is the net price. Taxes to be calculated in checkout.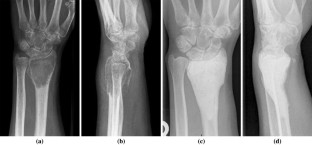 References
1.

Klenke FM, Wenger DE, Inwards CY, Rose PS, Sim FH (2011) Giant cell tumor of bone: risk factors for recurrence. Clin Orthop Relat Res 469:591–599

2.

Turcotte RE (2006) Giant cell tumor of bone. Orthop Clin N Am 37:35–51

3.

Unni KK, Inwards CY (2010) Giant cell tumor of bone. In: Dahlin's bone tumors: general aspects and data on 10,165 cases, 6th edn. Lippincott Williams & Wilkins, Philadelphia, pp 225–242

4.

Campanacci M, Bertoni F, Bacchini P (1990) Giant cell tumor. Bone and soft tissue tumors, 1st edn. Springer, Berlin, pp 117–151

5.

López-Pousa A, Broto JM, Garrido T, Vázquez J (2015) Giant cell tumour of bone: new treatments in development. Clin Transl Oncol 17:419–430

6.

Maloney J, Vaughan LM, Jones H, Ross J, Nagel A (1989) Benign metastasizing giant-cell tumor of bone. Clin Orthop Relat Res 243:288–295

7.

Traub F, Singha J, Dickson BC, Brendan C, Leung S, Mohankumar R, Blackstein ME, Razake AR, Griffin AM, Ferguson PC, Wunder JS (2016) Efficacy of denosumab in joint preservation for patients with giant cell tumour of the bone. Eur J Cancer 59:1–12

8.

Wülling M, Engels C, Jesse N, Werner M, Delling G, Kaiser E (2001) The nature of giant cell tumor of bone. J Cancer Res Clin Oncol 127:467–474

9.

Liu YP, Li KH, Sun BH (2012) Which treatment is the best for giant cell tumors of the distal radius? A meta-analysis tumor. Clin Orthop Relat Res 470:2886–2894

10.

Pazionis TJC, Alradwan H, Deheshi BM, Turcotte R, Farrokhyar F, Ghert M (2013) A systematic review and meta-analysis of en-bloc vs intralesional resection for giant cell tumor of bone of the distal radius. Open Orthop J 7:103–108

11.

Blackley HR, Wunder JS, Davis AM, White LM, Kandel R, Bell RS (1999) Treatment of giant-cell tumors of long bones with curettage and bone-grafting. J Bone Joint Surg 81A:811–820

12.

Klenke FM, Wenger DE, Inwards CY, Rose PS, Sim FH (2011) Recurrent giant cell tumor of long bones: analysis of surgical management. Clin Orthop Relat Res 469:1181–1187

13.

O'Donnell RJ, Springfield DS, Motwani HK, Ready JE, Gebhardt MC, Mankin HJ (1994) Recurrence of giant-cell tumors of the long bones after curettage and packing with cement. J Bone Joint Surg 76A:1827–1833

14.

Deheshi BM, Jaffer SN, Griffin AM, Ferguson PC, Bell RS, Wunder JS (2007) Joint salvage for pathologic fracture of giant cell tumor of the lower extremity. Clin Orthop Rel Res 459:96–104

15.

Viswanathan S, Jambhekar NA (2010) Metastatic giant cell tumor of bone: are there associated factors and best treatment modalities? Clin Orthop Relat Res 468:827–833

16.

Wysocki RW, Soni E, Virkus WW, Scarborough MT, Leurgans SE, Gitelis S (2014) Is intralesional treatment of giant cell tumor of the distal radius comparable to resection with respect to local control and functional outcome? Clin Orthop Relat Res 473:706–715

17.

Puloski SKT, Griffin A, Ferguson PC, Bell RS, Wunder JS (2007) Functional outcomes after treatment of aggressive tumors in the distal radius. Clin Orthop Relat Res 459:154–160

18.

Gerrand CH, Rankin K (2014) A system for the functional evaluation of reconstructive procedures after surgical treatment of tumors of the musculoskeletal system. In: Banaszkiewicz P, Kader D (eds) Classic papers in orthopaedics. Springer, London, pp 489–490

19.

Davis AM, Wright JG, Williams JI, Bombardier C, Griffin A, Bell RS (1996) Development of a measure of physical function for patients with bone and soft tissue sarcoma. Qual Life Res 5:508–516

20.

Campanacci M, Baldini N, Boriani S, Sudanese A (1987) Giant-cell tumour of bone. J Bone Joint Surg 69A:106–114

21.

Kang L, Manoso MW, Boland PJ, Healey JH, Athanasian EA (2010) Features of grade 3 giant cell tumors of the distal radius associated with successful intralesional treatment. J Hand Surg Am 35:1850–1857

22.

Alsulaimani SA, Turcotte RE (2013) Iterative curettage is associated with local control in giant cell tumors involving the distal tibia tumor. Clin Orthop Relat Res 471:2668–2674

23.

Wang T, Chan CM, Yu F, Li Y, Niu X (2017) Does wrist arthrodesis with structural iliac crest bone graft after wide resection of distal radius giant cell tumor result in satisfactory function and local control? Clin Orthop Relat Res 475:767–775

24.

Clarkson PW, Sandford K, Phillips AE, Pazionis TJC, Griffin A, Wunder JS, Ferguson PC, Masri BA, Goetz T (2013) Functional results following vascularized versus nonvascularized bone grafts for wrist arthrodesis following excision of giant cell tumors. J Hand Surg Am 38:935–940
Acknowledgements
The authors want to thank all the research assistants involved in management of local database and data collection for this work: Firas Dandachli MD MSc and Mrs Janie Barry MSc.
Ethics declarations
Conflict of interest
Authors disclosed no conflict of interest pertaining to this study.
Ethical approval
Investigation was performed at the McGill University Health Centre. This study was reviewed and approved by ethics review committees from all participating institutions.
Additional information
Publisher's Note
Springer Nature remains neutral with regard to jurisdictional claims in published maps and institutional affiliations.
About this article
Cite this article
Abuhejleh, H., Wunder, J.S., Ferguson, P.C. et al. Extended intralesional curettage preferred over resection–arthrodesis for giant cell tumour of the distal radius. Eur J Orthop Surg Traumatol 30, 11–17 (2020) doi:10.1007/s00590-019-02496-2
Received:

Accepted:

Published:

Issue Date:
Keywords
Giant cell tumor

Radius

Benign bone tumor

Curettage

Wrist arthrodesis